UK firm achieves highest overall growth among Mastervolt's worldwide distributor network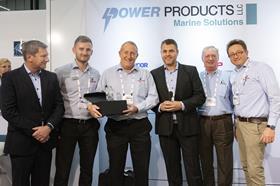 Fischer Panda UK has received the Mastervolt Distributor of the Year Award 2018 for Highest Overall Growth after posting the leading annual sales improvement among Mastervolt's worldwide distributor network. Fischer Panda collected the honour on the Power Products LLC stand during last week's METSTRADE Show in Amsterdam.
After joining forces with the marine and mobile power systems pioneer in 2012, Fischer Panda UK has continued to expand its compatible Mastervolt power solutions around its generator and electric propulsion systems, watermakers and air-conditioning equipment, resulting in positive sales growth each year.
"Our partnership with Mastervolt has been a huge success for us over the last six years so we were delighted to stand out from all the global distributors with recognition in this year's awards," says Barry Fower, MD at Fischer Panda UK.
"In the past year, our cooperation with Power Products LLC has expanded to encompass digital switching specialist CZone, as well as Mastervolt, which positions Fischer Panda UK as a prime supplier of marine and mobile power solutions in this country."
Fischer Panda customises engineered Mastervolt power solutions for boat and vehicle owners with or without generators, including a one-off inverter or battery charger, or a fully integrated system. With a power range from 300W-40kW, the choice ranges from the latest Lithium-Ion technology to Gel and AGM lead acid service batteries.
In addition, as distributor for Bellmarine electric drive systems, Fischer Panda can also offer compatible Mastervolt solutions for complete and fully-integrated electric propulsion systems.