Engine makers are repurposing purpose-built products for smaller market segments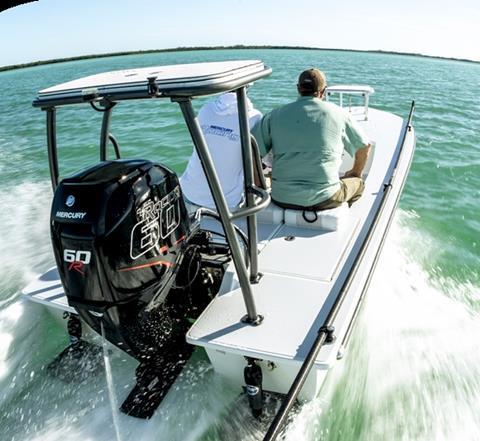 Hot on the heels of its Miami International Boat Show (MIBS) Innovation Award-winning V8, supercharged, four-stroke 450R outboard, Mercury Racing's next new model introduction comes in at a whopping 60hp. It's aimed at small subset of the already small shallow-water recreational flats fishing boat market.
Similarly, Suzuki Marine let loose a tiller handle 90hp four-stroke primarily for the slightly larger, but still highly-targeted, panga boat fishing fleets of Latin America.
Engine manufacturers are repurposing purpose-built products for smaller market segments in order to gain additional market share.
In Suzuki's case, panga-style boats launch and return from the beach. When returning, it is with a heavy load and the boat hits the beach at speed, so it comes to rest above the hightide line, if possible. The new DF90 Cargo Series has a gas-assist cylinder system that allows the captain to maintain control of the tiller handle and rapidly tilt the outboard, allowing momentum to slide the boat up the beach.
Performance and economic factors also need to be considered when dealing with a niche market as well.
"Three months of testing in Mexico demonstrates better acceleration and 30% better fuel economy with a heavy load than other products in the class," said Ruben Rabadan, Suzuki's commercial manager for Mexico before an audience at MIBS.
So-called "flats boats" are made for shallow water sight fishing. The captain stands on an aft platform above the outboard, poling the boat silently forward while looking out for game fish feeding on shallow "flats". The lighter the boat, the shallower the water it can ply.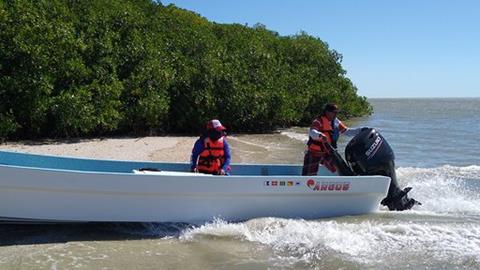 "They're minimalists, they don't want all that power and weight and size on a boat. They want to stalk fish in very skinny water and they want the lightest possible boat, but they still want performance attributes so that they can jump it up on plane quickly," explained Mercury Racing's director of marketing Steve Miller.
Mercury Racing took its existing 15in midsection 60hp Formula One race outboard, amped the rpm up by 300, and put on a larger gearcase that offers a broader range of propeller options.
"That's where our specialty lies," Miller said, telling IBI, "[The customer] has a need, we've got a way to deliver that because of what we do and who we are. It's a really small niche market, smaller than what main plant would bother with; they focus on the higher volume pieces of the market."
Miller said that it wasn't just the anglers driving the demand.
"We know from talking to some of those [boat] builders that they'd love to be able to lower the polling platforms a little bit, but they can't because nobody made this 15in engine.
"And not only that, the lower centre of gravity makes the boat handle so much better too, because it's such a lightweight boat," Miller concluded.
So, as outboards continue to grow on both transoms and ever-higher horsepower, some builders will keep an eye on the little guy to scoop up an otherwise ignored bit of niche market share.