New models and dealer programs target first-time buyers, described as "a neglected and critical market segment"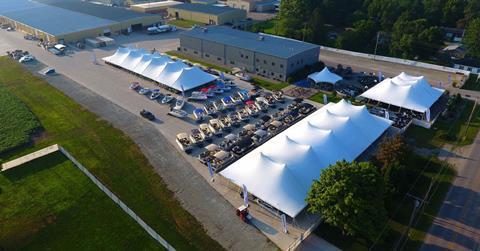 US independent boatbuilder Smoker Craft Inc unveiled a wide range of new models at its 2020 model year dealer meeting this week, with a clear focus on capturing market share among entry-level and mid-level buyers.
"Our focus is affordable boating. We want to get more people out on the water by keeping boating accessible to everyone," said Smoker Craft's vice president of marketing and corporate development, Peter Barrett. "As the marketplace focuses increasingly on that higher-end consumer, our concern is that the entry-level buyer has been completely left out, and we want to bring them back into the picture. We want a millennial to be able to buy one of our boats and become a customer for life."
The manufacturer of aluminium fishing boats, aluminium pontoon boats and fibreglass sport boats sold under the Smoker Craft, Starcraft, Starweld, Sylvan and SunChaser banners welcomed dealers from more than a half-dozen countries to its annual dealer event, held at the company's New Paris, Indiana manufacturing complex. A full line of 168 different models were presented on display, with an additional 22 new models available for in-water testing on a nearby lake.
That included an all-new entry-level SVX fibreglass deck boat line, introduced as the company celebrated its 60th year in the fibreglass boat segment. "These are boats that have fresh, contemporary styling yet come in at an attractive price point," said Barrett. "Beyond that, they perform very well with outboards of even modest horsepower, further lowering the overall package price to keep them as affordable as possible."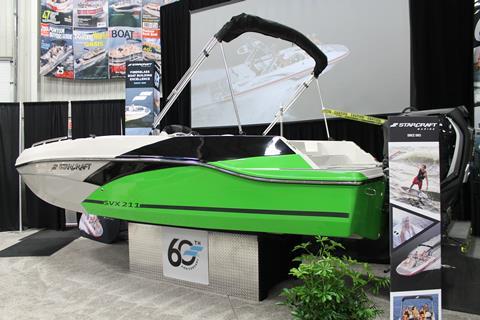 Dealers were also introduced to a new line of entry-level pontoon boats sold under the Sunchaser Vista and Starcraft LX branding. Ranging from 16ft-22ft in length, the new boats particularly appealed to international dealers with their ability to fit inside a standard shipping container and thereby lower freight costs.
New aluminium fishing boat product was also on display, including a several models in its Starcraft and Smoker Craft lines riding on an all-new Vertex Performance Strake (VPS) hull design, said to deliver greater stability and faster planning times while improving fuel efficiency by delivering undisturbed water to the propeller.
As a privately-owned independent boatbuilder, Smoker Craft has been enjoying steady growth for several years, making substantial investments in upgrading its manufacturing facilities while divesting of non-core businesses such as its sale of its furniture manufacturing operation last November to Lippert Components Inc.
President and CEO Doug Smoker says the company anticipates another strong year ahead in spite of the continuing impact of tariffs in Europe, and domestic US tariffs on components imported from suppliers in China. "We have paid approximately US$170,000 in tariffs on Chinese goods through the first half of the year," said Smoker. "If things continue along the same course that figure will be in the range of $340,000 by the end of the year, and that's straight off the bottom line."