Brunswick CEO David Foulkes told IBI that the sale of Life Fitness allows company to focus on what it does best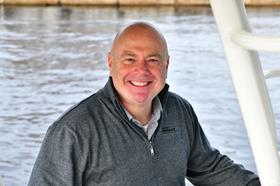 Five months into his tenure as CEO of Brunswick Corp, David Foulkes calls it a "privilege to have a job like this." Admitting that he took over at a time when the marine segments of the business "are literally and figuratively firing on all cylinders," Foulkes told IBI that the sale of Brunswick's Life Fitness exercise equipment company – originally purchased to help the company weather the cyclicality in the marine industry – is a move that allows for more focus on what it does best: marine.
"You see all over the market place that investors are favouring 'pure play' companies that they understand better," Foulkes said.
The Life Fitness sale has allowed BC to pay down some debt from the purchase of P&A giant Power Products, as well as buy back company stock.
"Prior to the Power Products acquisition, we were on a pretty regular schedule of share buy backs, maybe US$80m to US$100m a year. With the Life Fitness sale, we will resume that process and make sure the shareholders are rewarded, as they should be."
Foulkes says the ultimate goal is making Brunswick less susceptible to cyclicality and Power Products plays a key role.
"P&A is typically a high-margin business that doesn't move a lot with economic cycles. We have made a determined and resolute effort to make Brunswick much less susceptible than it was even a few years ago. A third of our revenue and more than half our earnings comes from parts and accessories. Even in the great recession they were virtually unaffected."
Foulkes says the slow start to the boating season due to an "extended winter" has more impact on value brands than premium brands and that Brunswick's premium boat brand strategy allowed for less of an impact on profitability.
Being the biggest boat manufacturer, P&A business and propulsion builder doesn't make Brunswick a target, Foulkes said.
"We are an absolutely formidable business platform in the marine sector. Provided we keep our focus on what we've done well, I think what it says is, we're an excellent investment."