James Austin joins composite rigging manufacturer to focus on new product development at freshly-acquired R&D centre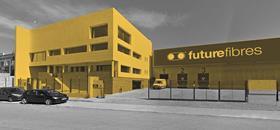 Composite rigging manufacturer Future Fibres has signed a long-term lease agreement for a 60,000sq ft factory space in Valencia, Spain that will become the company's dedicated service and R&D centre.
The new facility offers more manufacturing space than the company's previous Valencia plant, and will "facilitate a significant increase in operational capability to support Future Fibres' strongly-growing business activities", according to the company. Its new capacity will be used for developing manufacturing processes for new types of composite tension cables intended for both marine and non-marine applications.
The site will also house the company's RigPro rigging service business.
Coinciding with acquiring the new plant, the company further announced that it has appointed James Austin as its new general manager. Austin was previously CEO of North Thin Ply, a sister company within the North Technology Group, and has an in-depth experience of composite materials and technologies. In his new role, Austin will focus on new product development and customer support.
"I am honoured to join the Future Fibres team as general manager in what is an exciting period for the company, and I look forward to overseeing its successful transition to the new factory," said Austin. "This expansion will help accommodate the company's rapid growth and ensure that we have the ability to maintain our status as the world's leading composite rigging and tension cable supplier."
Owned by New Zealand-based Southern Spars, Future Fibres operates from locations in Valencia, Sri Lanka and Rhode Island, USA.