New five-year deal extends supply partnership to 2024 while adding Fusion audio brand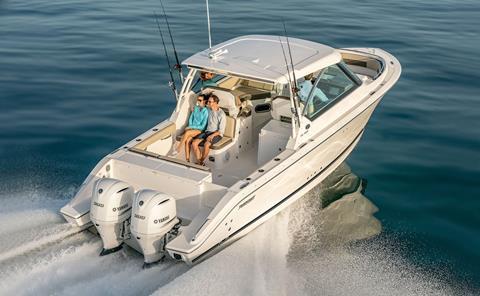 Kansas-based electronic equipment manufacturer Garmin International has extended its existing supplier agreement with the US-based Independent Boat Builders Inc (IBBI) equipment buying consortium through 2024.
The five-year extension to Garmin's existing agreement will see the company continue as the exclusive electronic equipment supplier to IBBI members representing 19 boat brands, including Beneteau, Campion, Chris-Craft, Godfrey Marine, Malibu, Pursuit, Regulator, Scout, Smoker Craft and World Cat. IBBI notes that its member manufacturers collectively build approximately 25% of all boats sold in North America each year.
Beginning with the 2020 model year, the supply agreement extends to now include the Garmin-owned Fusion brand of premium audio equipment. "We are extremely honoured that IBBI has chosen Fusion to be a stereo supplier of choice," says Dan Bartel, Garmin vice president of global consumer sales. "IBBI members are some of the most innovative boatbuilders in the industry, and together with Garmin, Fusion is committed to supplying them with exciting new products and solutions, and first-class service that meet and exceed the needs of their customers."
"We are excited to expand our strategic relationship with Garmin into the Fusion marine stereo product line," added IBBI president, Tom Broy. "The Fusion stereo products are top-of-the-line products that can instantly add a sense of quality to any boat. Garmin was just awarded our supplier of the year award, so extending our Garmin contract was an easy decision."