In his keynote presentation at the opening ceremony for METSTRADE on Tuesday, Hervé Gastinel, CEO of Groupe Beneteau, laid out some ambitious challenges in the years ahead for the world's largest boatbuilder. He explained that Groupe Beneteau initiated a business transformation programme which has the simple objective to ensure sustainable and profitable growth. Called 'Transform to perform', the programme has three key elements: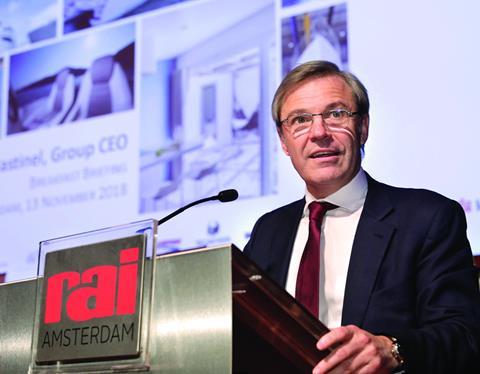 • Product Development
• Service Innovation
• Manufacturing transformation
Gastinel emphasised the importance of continual investment, stating that the group has ploughed between €60m and €80m back into the business every year over the past decade. Because of this programme, 44% of Groupe Beneteau's models are less than three years old; some 88 out of 200.
Looking ahead to 2020, Gastinel outlined the Group's objectives, including: growing twice as fast as the market, doubling operative margins, and increasing profits by 50%.
He also spoke of various initiatives undertaken by the Group to make boating easier and to attract new and younger people. They are looking for an experience rather than owning a boat, he explained, and initiatives such as boat clubs, fractional ownership schemes, and a new leasing scheme are responding to these preferences.
"Far from being a threat, the digital transformation is a formidable enabler to accelerate innovation and force companies in the boating industry to become more user-centric."

Hervé Gastinel
Gastinel made an impassioned appeal to the audience about the topic of sustainability, as well, stressing recycling's importance to the future of boating. He noted that Beneteau has developed a life-cycle assessment analysis and is increasing the use of materials that can be recycled at the end of a boat's life. Gastinel pointed out that France is pioneering in this field with a law on boat disposal entering into force in January 2019.
"I believe the rest of Europe will move in that direction too in the coming years. My message to you is that we all need to adapt fast to that by taking a more proactive role."
He also spoke of reconfiguring Beneteau's manufacturing activities so that they are more regionalised. Over the next three to five years he indicated that the group wants to reach a manufacturing base that sees 50% of product being built in Europe, 30% in North America and 20% in Asia. This would include models specifically designed for the customers and region in which they are being constructed.
Gastinel concluded his remarks an open invitation to the Tech Days that are organized every two months by the Groupe Beneteau: companies are invited to pitch their innovations to the Group's senior executives, the brand leaders and the engineering teams.
EDITOR'S NOTE: This is an updated version of this article, which was first published on 13 November. In the original version, we incorrectly stated that Beneteau had established a new joint venture with Société Générale. In fact, the Beneteau Group has had a dedicated financial company since 1999 – SGB Finance – jointly owned with CGL, to finance product inventory across its distribution network and support customer sales with lease purchases, credit and insurance. CGL (Compagnie Générale de Location d'Equipements S.A.) is a subsidiary of Société Générale Group.