Over 200 international guests attend company's anniversary celebrations in Italy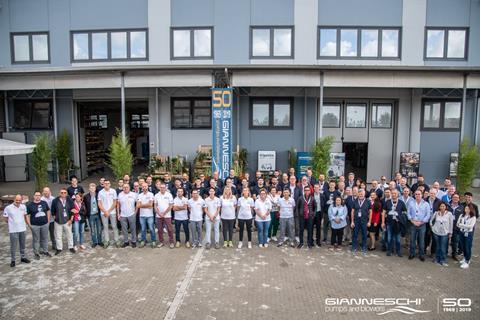 Italy-based Gianneschi Pumps & Blowers hosted a large delegation of international dealers at its facilities in Versilia earlier this month to help celebrate its 50-year anniversary.
As part of the festivities, the Italian producer of pumps, autoclaves, motor pumps and fans for yachts and workboats held three days of in-depth analysis and meetings for over 200 guests from around the world. They arrived on October 9 for an exclusive awards evening based on performances, development trends and diligence in cooperation.
The following day, dealers were involved in a training session to demonstrate Gianneschi's innovations, machinery and investments made in new technologies. Participants also had the opportunity to visit nearby Pietrasanta, thanks to the organisation of a dedicated tour in which guests could enjoy the beauty of the area.
On October 10, an anniversary dinner was held at Gianneschi's headquarters in Capezzano Pianore. In addition to the international dealers already present from the previous day, guests also included representatives of the municipal administrations and the main trade associations in the yachting sector, as well as national shipyards and Gianneschi's historic customers and partners.
The event was organised in collaboration with Navigo, an Italian research and innovation service centre for the nautical sector.
Founded by Luigi Gianneschi in 1969, Gianneschi Pumps & Blowers has an impressive dealer network that stretches across the globe – from Europe and the Americas, to the Middle East, China, South East Asia and New Zealand. Together they account for more than 45% of total group turnover.