Production robots are among the state-of-the-art improvements luxury motorboat builder Grand Banks has invested in to overhaul and expand its capabilitites in Malaysia.  The company also acquired a yard in Stuart, Florida during the past year to cater to customers in the US where it sells the majority of its boats
Grand Banks Yachts Ltd. hosted more than 30 shareholders on a visit to its upgraded and expanded facility in Pasir Gudang, Malaysia, where it manufactures luxury boats for the Group's two international brands, Grand Banks and Palm Beach, ranging between 42 and 85-feet, with a new 85-foot GB model underway.
The company – listed on the Singapore Exchange Main Board since 1993 – says its 550,000 square-feet facility expanded 45% from its previous 380,000 sq ft, is now one of the most advanced luxury boat building facilities in Asia.
In recent months, Grand Banks added a second production robot, a cold storage room for temperature-sensitive materials and extended usable covered space at Pasir Gudang to permit all-weather production. With increased automation workers can handle more tasks while improving quality and consistency and efficiency.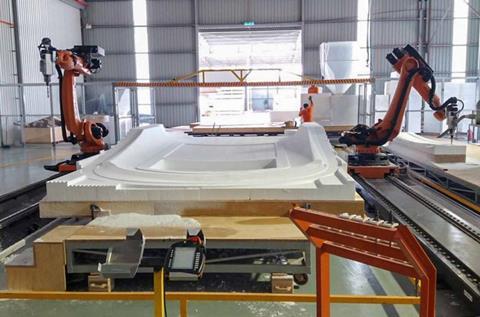 Grand Banks CEO Mark Richards, who came on board in 2014 when Grand Banks acquired the Palm Beach Motor Yacht brand he founded in 1995, led the overhaul of the facility, changing production processes, introducing new materials as well as automation and robotics.
Richards has also overseen a renewal of the product line, including larger, more energy-efficient models such as the Palm Beach 70, introduced at the Fort Lauderdale show a few weeks ago.
Grand Banks says favourable response to the new line-up has helped lift its order book to S$52.8 million as at end-September 2019.
The Group received 31 new boat orders and five trade-in boat orders in FY2019, bringing the aggregate net order book to S$57.8 million for the year ending 30 June 2019.
The US is the Group's largest geographic market, accounting for nearly 83% of sales in 2019, followed by Australia and Europe.