The Onda 321L limousine tender is capable of 40kt-plus speeds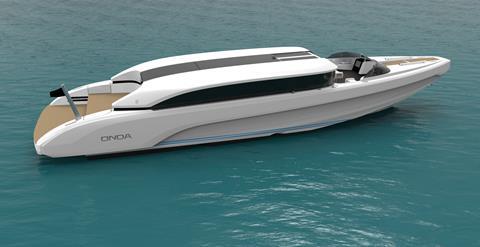 Greek boatbuilder Onda Tenders has announced the sale of another custom 321L limousine tender designed in collaboration with the Scandinavian studio Mannerfelt Design Team. The contract for the limousine was signed during the Monaco Yacht Show.
On completion in May 2020, the 9.75m tender will be sent to the Greek shipyard where its future mothership, a 95m superyacht, is set for delivery in June 2020.
"We are honoured to be providing the limousine tender for such a prestigious superyacht project," says George Riginos, Onda Tenders CEO. "It is rare to find a limousine tender that can deliver the such high-performance speeds, luxury finishes and hand-crafted furnishings as the 321L, not to mention with such a short delivery time. There is a clear demand for our diverse new tender ranges, proven by the fantastic reception we have received."
This latest 321L tender will feature a new fender system, unique colourway and custom interior design. It will be capable of top speeds of 40kt-plus, thanks to a double-step, deep-V hull combined with a lightweight yet powerful propulsion system.
Twin inboard motors will provide ample space for guest-focused features to the aft of the tender, including an expansive swim platform with direct access to the water for at-anchor activities.
The limousine's interior will be finished in the same fashion as previous models, with hand-crafted custom details and seating for 10 passengers. A retractable skylight extends the full length of the cabin, while the navigation console forward of the interior space wil allow guests to enjoy complete privacy from the two crew while underway.
Onda builds superyacht tenders from 8m-12m at a 10,000sq m facility in Thiva, Greece. The company currently has three boat models in its fleet: the 321L limousine tender, the 331GT open tender and the 341P patrol tender.