First superyacht with total electrically operated on-board services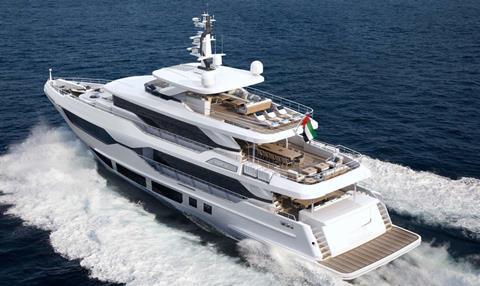 Middle East yacht-builder Gulf Craft announced at the 2019 Monaco Yacht Show that a new 37m (121ft) tri-deck Majesty 120 has been added to its superyacht range. The new model was launched by Mohammed Hussein Alshaali, Culf Craft's executive chairman.
A key new feature with this model is that it will be the first Majesty superyacht to have 100% electrically-operated services on board. Hull #1 is under construction in the UAE and is scheduled for completion in 2020.
In launching the new model, Alshaali indicated that it was ideally suited to both European and American markets. He said: "With the Majesty 120, everything except for the engines and generators are electrically-powered – from the fin stabilisers to the thrusters and steering, from the balconies to the passerelle, all services onboard will not require any use of hydraulics.
"Listening to market demands for more efficiency as well as more comfort onboard, the Majesty 120 not only meets these demands but represents a new era of Majesty Yachts around the world," he said. "Building on the quality and innovative design of the other models, the new model represents the best of the shipyard's flagship brand."
Measuring 37m with a beam of 8.1m and a draft of 2m, the Majesty 120 is constructed using advanced composites such as GRP and carbon fibre. Gulf Craft's in-house design studio is responsible for her naval architecture and exterior design, while the Italian studio of Cristiano Gatto Design Team undertook her interior design.
The new model includes the signature Majesty Yachts windows lining the hull with extensive use of glass offers an unparalleled connection to the outdoors with low bulwarks allowing for an ornamental glass railing design. Onboard, the yacht accommodates up to 11 guests across five spacious staterooms in an inventive asymmetric layout. A total of seven crew are also accommodated onboard.
Amongst the features onboard is a Jacuzzi on the sun deck as well as a hybrid beach club which can be converted to a tender storage unit to ensure maximum fun on the water. Also to offer maximum flexibility to owners, the VIP stateroom entertainment area can be cleverly transformed into a spacious lounge quarter on the lower deck.
Dedicated to the design and construction of a yacht that offers owners more usable living space, the Gulf Craft team undertook months of rigorous R&D to ensure ultimate space optimisation. As a result, the new Majesty 120 boasts 30% larger outdoor entertainment areas compared to other yachts in its class.
Gatto worked to a design brief that called for a minimalistic boat to meet international tastes. The studio created a modern and contemporary interior design. Gatto, has collaborated with the shipyard on projects including the Majesty 175 and Majesty 140.
He commented: "The Majesty 120 is the result of yet another fruitful collaboration with Majesty Yachts. I'm extremely proud to be part of an open and productive merging of two different design cultures and look forward to our future projects together. For me, the Majesty 120 perfectly captures the direction in which this innovative brand is heading with her dynamic profile, balanced outdoor spaces and sophisticated interiors that are all designed with true yachtsmen and women in mind".