New sales centre to open at Mina Rashid Marina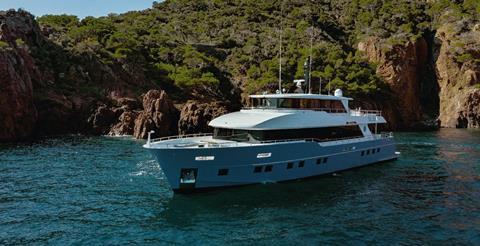 In a move to increase its presence in Dubai, Gulf Craft is opening a dedicated yacht sales centre at Mina Rashid Marina. The initiative is the result of a new strategic partnership which has been announced between Gulf Craft and P&O Marinas.
Gulf Craft is the Middle East's largest yacht builder and one of the world's leading international builders of superyachts. P&O Marinas is a division of DP World charged with developing world-standard marina facilities.
An important objective of this new partnership is Gulf Craft's expansion plans for Dubai, where the brand aims to strengthen its product and servicing offering with the new sales centre being a key part of this.
To coincide with the launch of the new Mina Rashid Marina sales centre, Gulf Craft has launched a new customer-focused campaign for its Nomad, long-range explorer yachts.
The Nomad models are designed to meet the aspirations of adventurous yacht owners keen to explore new areas of the world. As a core brand within the Gulf Craft yacht range, its models have already sold well in Europe, Asia and Australia as well as the Middle East. Gulf Craft plans to offer competitive rates for new Nomad explorer yacht buyers in addition to free berthing for a year at Mina Rashid Marina.
Mohammed Alshaali, Gulf Craft's chairman, says: "With the return of marine-centric activities in the region and to leverage Dubai's position as a hub for the yachting community, we are further expanding our presence in the Emirate. We are proud to open our new sales centre in Mina Rashid Marina, which has a rich legacy in addition to being a lifestyle hub that will appeal to yacht owners."
Gulf Craft CEO, Talal Nasralla, adds: "Mina Rashid Marina is fast evolving as a hub for marine enthusiasts from across the world. In addition to opening our sales centre, we are launching a dedicated campaign to promote our Nomad brand, providing new customers the opportunity to experience not only the distinctive experience of this explorer yacht but also the diverse offering of Mina Rashid Marina."
P&O Marinas' COO, Hamza Mustafa, comments: "Mina Rashid Marina provides a complete ecosystem for marine enthusiasts. As a luxury waterfront destination, we enable yacht owners to explore the high seas with ease while also providing a vibrant dining and lifestyle scene on ground. We are delighted to welcome Gulf Craft, a company with a strong heritage in building world-class yachts in the UAE. Their new sales centre will add to the convenience of the yachting community."
Mina Rashid Marina is the main port of entry for all international superyachts visiting Dubai and has the capacity to host some of the world's biggest superyachts. It has a berthing capacity of 424 yachts from 15m-80m (49ft-262ft), in addition to seven alongside berths to accommodate superyachts that are over 80m.