HanseYachts' CEO has provided an update on the company's status for clients, suppliers and shareholders in the wake of the Coronavirus crisis: "We are producing and are able to deliver."
In response to customer queries about delivery dates for existing orders and the possibility of taking new orders for the Summer, Dr. Jens Gerhardt, CEO of Germany boatbuilder Hanse Yachts, has detailed steps the company has taken to maintain planned production levels and meet increased demand.
In his statement, Dr. Gerhardt said, "We keep producing and are able to deliver." He went on to explain that all conveyor belts are running at HanseYachts, with six out of the eight operating at the highest level of productivity in the company's history. He further explained the unique circumstances of the builder's location and extraordinary measures the company is taking to maintain operations:
"Our workforce is in good health. Our production takes place in one of Germany's [most] thinly populated regions, close to the coast and close to the Polish border. In order to continue to hold our current health level, last week we had to decide to ban our suppliers, our own sales team, our clients and other visitors from entering our production halls. All employees, who are able to work from home, are doing so, and only our production workforce is entering our premises. All meetings are being held via conference calls. All business travel has been cancelled. Most boat shows until the end of May have been cancelled by the respective organisers. Boat sales are [being] handled solely in one-to-one contacts and via telephone and email."
Delivery status:
"Hanse is sold out until Mid-June, but continues to take on new orders for the summer months. The production speed is currently as planned. We expect all delivery dates for our products to be complied with as planned. There is therefore no reason at all for cancellations by clients; the normal contract conditions apply," although the statement acknowledged the possibility of one contract withdrawal.
Supply conditions:
"We do not obtain any critical products from China, but some from Italy. For these goods, we have changed from just-in-time deliveries to traditional warehousing. We have increased our storage capacity in order to be able to stock all goods until June and are currently in the process of extending it by two more months. Our Italian suppliers are still running their production at this time. We are currently working on finding alternatives for the non-critical parts from Italy. Therefore we can confidently say that we do not expect any shortages at the current time. Should the very rapidly changing times give us a reason to amend this statement, we will inform you immediately."
Dr. Gerhard also noted that unique position of boating to provide a safehaven for customers seeking a safe holiday in light of the unprecedented impact of COVID-19 on the tourism and travel industries, as well as everyday life, "Out at sea the family can remain as isolated as [possible] and can still enjoy a wonderful holiday."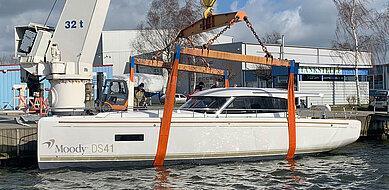 New model launch
Further punctuating Hanse's current operating status, the company also announced the launch of its first Moody Deck Saloon 41 today. First presented at boot Düsseldorf in January, the new model – dubbed "Pitti" – was lifted by crane into the water at HanseYachts' harbout in Greifswald and said it would be outfitted with rigging and sails within the next few days. According to the accouncement, the owner already has the new yacht's first trip planned on the Baltic Sea for the upcoming season.