Marine coatings specialist opens research facility into PFP coatings in Barcelona, Spain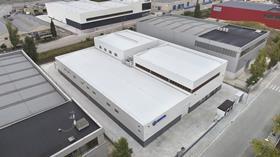 Marine coatings manufacturer Hempel has officially opened its new Centre of Excellence in Barcelona, Spain. The centre is part of a €6m investment into the research and development of coating products within the field of passive fire protection (PFP), in which Hempel is determined to gain market share during the next few years.
The centre comprises a 3,000sq m laboratory, testing areas and offices. Some 29 employees are currently working at the site. They form a strong technical organisation consisting of highly skilled technicians, applicators, fire testers, and scientists.
"We are determined to develop the coatings industry within the PFP field on a global scale," says group vice president and COO Lars Petersson. "PFP coatings are an important part of our growth strategy. But it is equally important to us to help protect the inside of our customers' assets and provide safety to the people working or staying there. And applying the right coating is crucial here."
Santiago Arias, R&D director in Barcelona, adds: "The organisation at the new Centre of Excellence will continue the work in developing PFP products and testing solutions. Hempel already offers a range of PFP products, but the team is dedicated to moving forward and I can promise that our product portfolio will soon be expanded with solutions that our customers can trust to protect their buildings and industrial installations."
Hempel is a global supplier of coating solutions with customers in the protective, marine, decorative, container and yacht industries. The company employs 6,700 people in 80 countries and has 28 factories, 15 R&D centres (including the new Centre of Excellence in Barcelona) and more than 150 stock points worldwide.