This is the second superyacht launched by the Chinese yard this year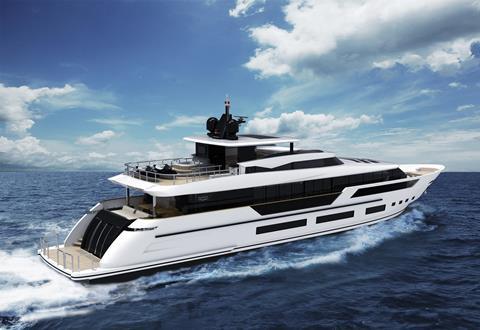 Chinese superyacht builder Heysea Yachts will shortly deliver its first 38.4m Asteria 126 model to a mainland Chinese customer following its launch in early March.
This is the second superyacht launch in 2020 for the yard, which is now the largest superyacht builder in China, following the launch of the 35.2m Dopamine – the first Heysea Atlantic 115 series model which entered the water in January.
A third launch of a 43m Asteria 142 is due in the summer.
The Asteria 126, which is in build at the company shipyard in Jiangmen, Guangdong, is for an owner who has ordered other craft from Heysea including an Asteria 82 and Asteria 96. The exterior design is down to the in-house design team which also oversaw the engineering of the project. The yacht's luxury interior is by Oceanus Design Co.
The Asteria 126 is the second-largest model in this core model range of Heysea Yachts. The long-range cruiser offers a 1,200Nm range at a cruising speed of 12kt-15kt, whereas its full speed is 20kt. The yacht is powered by twin Capertpillar 1,925hp engines.
In terms of accommodation, there is a master suite on the main deck which features large wrap-around windows providing uninterrupted views. Three guest cabins are located on the lower deck. Special attention was given to the galley on this yacht, which is readily able to serve food in the salon and the aft dining area.
Additionally, there is accommodation for up to five crew members, plus a double cabin for the captain and a good-sized crew mess.
Heysea Yachts currently has 11 projects in build, ranging from 50ft up to the Asteria 142 and including a new 17m (56ft) catamaran. Delivery of the projects – which are for clients in mainland China in respect of three superyachts, and from Australia, the US and South East Asia for the smaller craft and other superyachts – extend through 2020 and into 2021.
The 56ft catamaran and a new Asteria 118 European version are the current new projects for Heysea. As Heysea also builds yachts for a number of other international brands, it is currently developing a second shipyard to increase capacity both for its own models and other brands.
In respect of Covid-19, a Heysea spokesperson told IBI: "The impact of the coronavirus has almost eased in China, and everything will soon go back to normal. However, we are worrying about its spread in Europe, which could cause a delay in our supply chain."