New Australian base reflects growth of Asia-Pacific market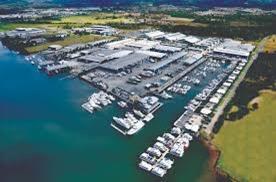 In response to the growth in the Asia-Pacific yachting market, Hill Robinson Yacht Management has decided to open an office on Australia's Gold Coast. The new office is located at Gold Coast City Marina & Shipyard (GCCM), already a well-established hub for superyacht repairs, refits and berthing. It will also be the location for the 2019 Australian Superyacht Rendezvous next month.
The new office for the international yacht services provider is to meet the growing demand from the increasing fleet of superyachts either based there or visiting, for crew and other services.
By using GCCM, Hill Robinson considers that they are ideally placed to serve the needs of the region's growing superyacht fleet. GCCM is the largest refit and repair facility of its kind in the Southern Hemisphere and one of the largest in the world. The combination of excellent service facilities and high-quality marine trades in the precinct made it the natural fit for the Hill Robinson brand.
The new office will be headed up by Donna Murray, who has wide experience in all facets of yacht management in Europe, the Middle East and the Asia-Pacific region. She is also a global recruitment manager for Hill Robinson, overseeing the expanding HR Crew division which now includes four offices worldwide including Antibes and Ft Lauderdale.
"Having lived and worked in Europe and the Middle East, I am very excited to see the continuing growth and exploration of the yachting industry in the Asia-Pacific region which has so much to offer. I am very proud to head up our new office at GCCM and look forward to bringing the global expertise and resources of Hill Robinson Down Under," said Murray.
Hill Robinson joins a host of other leading brands who have selected GCCM as their Australian headquarters, including Superyacht Solutions, Volvo Penta, International Paint, Seal Superyachts and Mercury.
"Hill Robinson are global leaders in yacht management, and we are delighted that they can see the growing strength of the South Pacific region as an emerging superyacht hotspot," commented Trenton Gay, GCCM CEO. "We are proud that they have recognised the world-class facilities and services at GCCM and chosen to open their official Australian headquarters here onsite.
"Our purpose at GCCM is to bring the best of the Australian marine industry together in order to make the experience of owning and running a yacht more hassle-free and enjoyable," he adds. "Having Donna and the entire Hill Robinson team here onsite to offer their expertise and support in all areas of yacht management aligns perfectly to our vision. Both companies share a strong customer focus and we are united in our passion to raise the bar in the yachting industry and to provide premium quality outcomes."
GCCM recently revealed plans to nearly double in size, with a Stage 2 expansion valued in excess of A$100m that will increase its marine refit lifting capacity by 400%. The facility has been growing exponentially each year with in excess of 80 marine businesses now operating on site, employing over 700 of Australia's most highly-skilled marine contractors.