Honda's BF259 outboards will be used on San Juan's new SJ32 luxury fishing centre console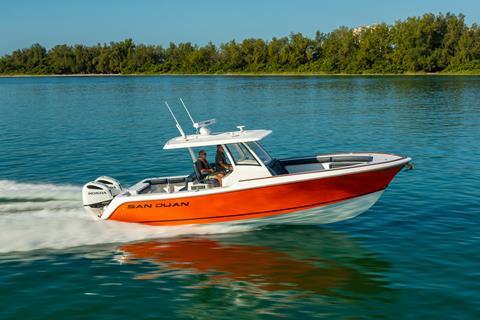 Honda Marine and San Juan Yachts announced an exclusive supply agreement between the two companies at the International Boatbuilders' Exhibition (IBEX). Honda will be supplying its BF259 outboards for the boatbuilder's all-new SJ32 luxury fishing centre console.
Founded in 1998, San Juan yachts is a luxury yacht company focuses on crafting "high-performance engineering of 30ft-48ft vessels," according to a news release from the motor company. The prototype unveiled at IBEX expands the company's reach beyond the premium pleasure boat category into the segment of luxury sportfishing, the release states.
"Helping design an entirely new boat from the waterline up, it has been an exciting opportunity for Honda Marine to work with the visionaries and planners at San Juan Yachts to develop the unique, powerful new SJ32 prototype," said Michael Rickey, Senior Manager, Honda Marine. "Among marine engine manufacturers, Honda has unparalleled experience in engine performance across the whole spectrum of automotive, racing, jet, powersports, power equipment and marine applications. Honda believes in the power of dreams, and we are proud to help San Juan Yachts realise its own dreams of designing a new luxury yacht and break into a new market."
Yacht architect Ward Setzer utilised 25 years of experience in boat design, to produce a "luxury fishing yacht with a beautiful, unique hull design, luxurious appointments and functional features suitable especially for anglers."
"Our partnership with Honda Marine began on day one, and we designed the SJ32 exclusively for the Honda BF250 iST engines. San Juan Yachts had been interested in entering the sportfishing market for some time but didn't have total confidence to be successful until we collaborated with Honda Marine," said Gilbert Villareal, CEO of San Juan Yachts.
"Meeting with all of our suppliers and providing comprehensive marine engineering knowledge and experience, Honda has become an invaluable partner. Our team knew we could merge the San Juan Yachts heritage with the Honda reputation of premium engine technology and performance to produce a luxury fishing yacht that would stand alone in its class."