Taiwanese boatbuilder unveils technology at its Open House this week in Kaohsiung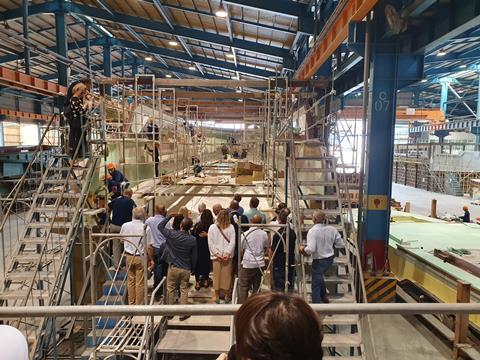 The benefits of resin infusion are no secret; it is a process used worldwide by major boatbuilders. While it guarantees flawless and continuous resin distribution throughout the laminates, it also reduces the emission of VOCs (Volatile Organic Compounds) to nearly zero.
Until now this has only been available in a 3D process, where the hull, girders and stringers are infused in separate processes. However, Horizon Yachts has taken the concept a step further with the announcement of 6D Infusion, where one shot does it all.
Taiwan-based Horizon Yachts has been continuously improving and developing the SCRIMP system since first using it over 20 years ago. At this week's Horizon Open House, held in Kaohsiung, Taiwan, they unveiled their new 6D Infusion, a patented technology that takes the resin infusion process to the next level.
By using a one-shot process for the hull, complete with stringers and girders, Horizon says their hulls are now 8% lighter, compared with only infusing the hull shell and 40% stronger, compared with the hand lay-up process. This now allows FRP hulls over 140ft to be easily constructed.
Atech, a world leader in composites and an affiliated company in the Horizon Group, announced they are also now applying aerospace-grade technology for their quality inspection using a Laser Shearography System.
A spokesman said they are the only Asian shipyard to apply non-destructive test technology from the aerospace industry to ensure final product quality.
"Laser Shearography is an advanced aerospace-level NDT that detects defects by using laser light to provide information about the quality of the different materials in strain measurement," she added.
The system allows Horizon technicians to detect most flaws that occur in composite structures, including disbondings, delaminations, dry spot, voids and cracks.