Increased global coverage and capacity will result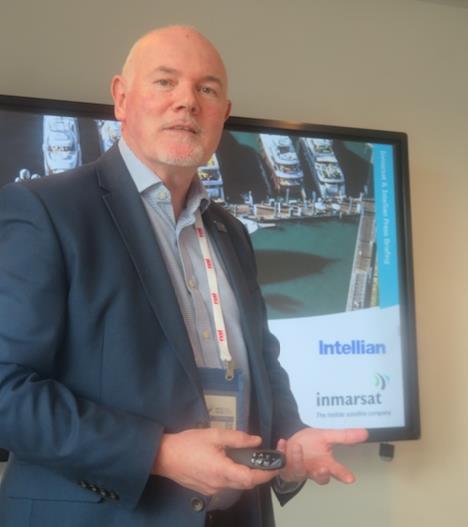 An intensive multi-billion dollar four-year investment programme in eight new satellites for Inmarsat will start on November 22 with the launch of the first one from Kourou in French Guiana. This was announced by Inmarsat at the METSTRADE exhibition where it is making its debut.
Inmarsat is the world leader in global, mobile satellite communications with a big and growing involvement with the international boat and yachting market.
The new satellites will expand Inmarsat's Global Xpress (GX) network both in coverage and capacity. The new GX5 satellite, the most advanced satellite in the GX fleet, is built at the Thales Alenia Space facility in Nice, France. The Very High Throughput Satellite (V-HTS) GX5 is the first of eight new satellites, all of which are expected to be in operation by the end of 2023. It will deliver twice the capacity of the entire existing GX fleet of four spacecraft combined.
The new GX5 will be positioned over the skies and seas of Europe, the Middle East and Asia in response to surging demand for high-capacity broadband from the aviation and maritime sectors. For superyachts, this demand is fuelled largely by growth in streaming services and remote working. Monthly download volumes vary significantly, with the highest demands during June, July and August. These satellites will also provide total coverage of the polar regions which has not been available before.
From its Fleet Xpress data service, Inmarsat has seen peak usage of 860GB per month on a single superyacht this year, and over 1.3TB per month on a luxury charter yacht. Video, TV and music services combine with internet browsing and Virtual Private Network (VPN) access to account for the majority of download traffic. For upload, bandwidth usage is dominated by storage to the cloud, including iCloud, Amazon and Dropbox, followed by emails.
"All of us at Inmarsat are excited at the prospect of the launch of GX5 this week, an important step in the continued expansion of the Global Xpress network as the first of eight advanced GX payloads to launch over the next four years," said Peter Hadinger, Chief Technology Officer, Inmarsat.
"GX5 represents a further leap forward technologically," he added, "and will deliver significantly more capacity to customers in Europe and the Middle East. Together with our partners at Thales Alenia Space and Arianespace, we look forward to the launch from Kourou, marking the completion of an exemplary technology partnership between our companies as well as the beginning of a new era for the world's only globally-available, true mobile broadband service."
Inmarsat is the only telecommunications company with a wholly-owned and operated global satellite communications portfolio, covering L-band and Ka-band, as well as S-band in Europe, enabling unparalleled breadth and diversity in the solutions it provides to its customers.
Les Shortall, Director of Market Development Yacht and Passenger, told IBI: "Each satellite costs around $400m to $500m to make and launch but the price will reduce as we work through the programme."
Inmarsat has promoted at METSTRADE its capability of delivering reliable and flexible connectivity globally for superyachts and yachts with its new Yachting and Passenger portfolio of services. Inmarsat will showcase the benefits available through its Fleet Xpress for superyachts service, FleetBroadband and Fleet One for leisure and fishing vessels, in addition to its award-winning Fleet Secure portfolio, an effective, multi-layered cyber security solution that combines cyber awareness, network security and endpoint security.
As the growth of digitalisation in the superyacht sector continues, Inmarsat is strengthening its presence year-on-year by meeting current customer demand as well as introducing solutions to satisfy future requirements for on-board connectivity for crew communications, weather routing, real-time business updates, personal messaging and recreation.
Inmarsat has development specific links with Groupe Beneteau such as the Lagoon brand. Shortall told IBI: "We are looking to expand these links to other brands within Groupe Beneteau and we are also talking with other brands about opportunities to connect with them."