US boatbuilder appoints new distributor for Australia and New Zealand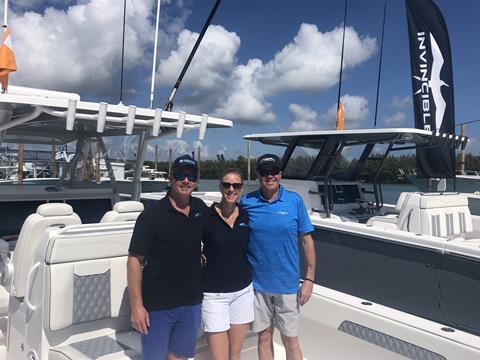 Invincible Boat Company, a US-based builder of saltwater sportfishing and high-performance boats, has appointed Sydney-based Boat Monster as its distributor for Australia and New Zealand.
"These are going to be important markets for Invincible and having the right partner to represent our brand is a key factor," says Ian Birdsall, vice president of international business at Invincible Boats.
"Invincible isn't just about a quality product," he adds. "It's about great customer service as well, and Boat Monster's Sam and Lucy Wallrock are the right fit for our long-term plans."
Invincible announced the next model in its catamaran range at this year's Miami boat show. The 46' Catamaran has been in research and development for more than a year, and the new flagship model is the largest ever built by Invincible.
The patent-pending catamaran hull incorporates the best elements from Invincible's monohulls with the additional stability provided by a multihull design. The hull was designed by Morrelli & Melvin, creators of many America's Cup and Olympic sailing yachts.
Boat Monster's Sam Wallrock says: "The team at Boat Monster is thrilled to be adding Invincible Boats to our portfolio of brands, and we can't wait to bring them to Australian shores. We're particularly excited about the Invincible catamarans which we tested in Miami. We believe there is a huge hole in the market for these versatile, stable, comfortable, high-speed outboard powered vessels which we are looking forward to filling."
Invincible's current product portfolio includes nine semi-custom models ranging from 33ft-46ft in both monohull and catamaran designs. The first two catamarans will be arriving in time for the Perth Boat Show in September.