Absolute plans to build 85 units in the current financial year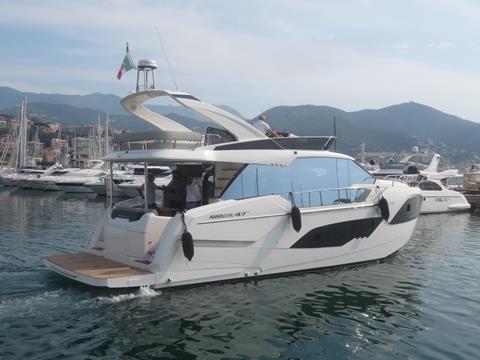 Absolute, the Italian yacht-builder, says it plans to expand production in its current fiscal year ending September 31, 2019 to 85 units compared to around 75 in 2016-17 – an increase of some 13%.
The information was relayed to IBI by Ceasare Mastroianni, VP of sales and CCO of Absolute, during a series of boat tests in Italy.
At the 2019 Cannes Yachting Festival, Absolute will hold the global premieres of the Absolute Navetta 68 and the Absolute 45 Fly. It will also host the floating debut of the Absolute 62 Fly, which launched at Boot Düsseldorf in January.
Mastroianni said: "Another measure of our growth is that in the 2017-18 year, turnover will grow and the average size of units will rise. In 2016-17, the average size of units produced was 45ft and in 2017-18 it will be 48ft."
He explained Absolute's current sales spread as being the Mediterranean, including Russia, Turkey and the Ukraine, accounting for around 45%. The US and Canada represent 30-35% and the remaining 20% is Oceania (Australia and New Zealand), the Far East and Middle East. "We are currently looking to appoint new dealers in Mexico, Dubai and Thailand," he said.
Mastroianni's view of the market overall is that it is steady with little or no growth.
In terms of Absolute's model range, the Absolute 47 Fly is the brand's new entry-level yacht, replacing the Absolute 45 but completely redesigned. The Navetta 68 is the company's second-largest yacht after the Navetta 73, but several new design features have been included in this latest model and a number have been sold, as have the Absolute 62 Fly.