Rosetti Superyachts plans to make use of its 180m dry dock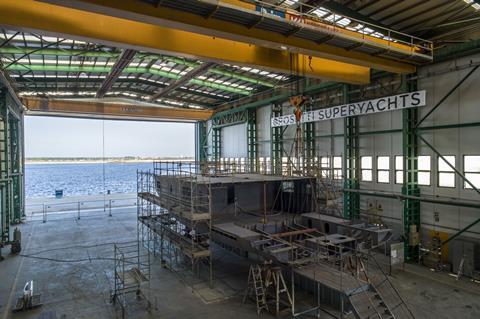 Italy's Rosetti Superyachts (RSY) is currently engaged in building a 38m (118ft) expedition yacht, which is set for delivery in 2020 in line with the owner's request. The company, a division of the Rosetti Marino Group, also plans to enter the superyacht refit market, making use of its 180m (591ft) dry dock.
Since launching as a new brand in 2017, RSY has launched a series of concept designs for superyachts, expedition yachts and what it calls supply vessels, a name for support yachts. Through its parent company, RSY has also upgraded the facilities at the San Vitale shipyard in Ravenna to make them more appropriate for building large yachts. This included reconstructing the entrance doors of the main shipyard shed to provide greater height access.
On a recent IBI visit to RSY, CEO and company partner Fulvio Dodich said: "Improving the shipyard is now complete and construction of our first 38m expedition yacht is progressing well. We are currently negotiating 17 potential new-build contracts, of which apart from five are all for expedition yachts between 38m and 65m. We are very close on a 65m expedition yacht deal."
Dodich explained that visits to the San Vitale shipyard by brokers and surveyors to see the facilities and quality of steel work produced, had resulted in many of the yacht project enquiries currently under negotiation. "Very few enquiries have come from other sources," he commented. "The enquiries we have received are from all over the world, Europe, the US, Hong Kong, Far East and Middle East."
"We are working with a number of different designers such as Hyrdo Tec which is involved in the 38m build," he added. "The build time for the 38m at 24 months is quite long but that is to meet the request of the owner."
With the improvements made to the main shed in the San Vitale shipyard, RSY now has the space to build up to eight superyachts, depending on size at any one time so if a number of the orders currently being discussed were finalised, it would not be a problem. The work force at the yard is now 1,400 which are also used of the offshore contracts which parent company Rosetti Marino work on. There is also no issue over land availability as there is a 50,000m2 plot close that can be used if required.
"If the 65m expedition project that we are very close on is agreed," said Dodich, "we have plans and all the necessary planning licences to build a new shed which will be 122m (401ft) long x 35m (115ft) wide and 35m high, so this could be used to build two yachts or one very large one at a time. With the six months that would be required for all the engineering work, we would have time to build the new shed. Investment is made by the parent company and we rent the facilities from them."
"We are also entering the refit market and we have already helped on an 85m (279ft) project being worked on by a Maltese shipyard. We have the 180m x 27m dry dock which we plan to put a 120m (394ft)-long cover over the dock so that we can do painting and other work in good environmental conditions."
Rosetti Superyachts will be at the Monaco Yacht Show promoting its new-build and refit opportunities.