Up to 40 staff to go as UK builder partially closes manufacturing in Hythe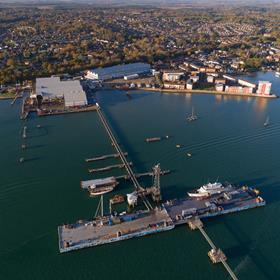 The UK's Fairline Yachts is to make up to 40 staff redundant – just months after launching a recruitment drive at its newly acquired production facility at Hythe in Southampton – but the company still has plans to manufacture its new larger yacht range at the facility starting in late 2020.
In a statement issued by David Tydeman, the CEO of Fairline Yachts says: "We can confirm we have reversed a decision made last year to use our Hythe facility for mixed line production of the Targa 65 and Squadron 68.
"During the past 18 months we have been building the Targa 65 in Oundle and the Squadron 68 in Hythe – a geographical separation which did not maximise the best team approach. During the past nine months we have reconsidered the build processes for the Squadron 68 so that we can now manufacture it in Oundle without encountering road haulage restrictions. This means we can maximise the experienced Oundle team, who have built over 400 60ft-plus yachts, including 115 of the highly successful Squadron 78."
The statement also confirmed the company is continuing the use of the Hythe facility. "By establishing the 65/68 production line in Oundle, we can accelerate our plans for producing the new Squadron 82 at Hythe. In the short term, this does mean we have reduced staff levels in Hythe. However, we are planning to develop a new specialised team for Hythe, specifically for building larger yachts. We anticipate production of the first Squadron 82 to begin towards the end of 2020".
Referring to the existing use of the Hythe facility for yacht service, Tydeman says: "We are pleased that our ambitions for Hythe Shipyard to become a significant contributor to the Fairline Yachts business are already coming to fruition, servicing clients including Carrington Boats (for Ben Ainsley's America's Cup project and Alex Thompson for his Hugo Boss Vendee challenge) together with commercial projects for Red Funnel, Southampton Marine Services and most recently, Sail GP.
"As part of this joint agenda, we confirm our plans for the Fairline Marine Park in Hythe to be primarily the future Fairline customer and marketing base, as well as a multi-purpose commercial slipway, providing onshore storage, a 200-tonne travel lift and fuel dock."
Originally designed and built by the US Navy in the 1950s, the slipway at Hythe was used to launch landing craft that were manufactured at the site. Hythe Shipyard can accommodate vessels of up to 950 tonnes and 11.5m in beam, which can be removed from the water via the heavy slipway and stored undercover.
The shipyard features more than 10,000sq m of covered working halls with ample workspace for crew or contractors to carry out required works. Hythe Shipyard is also capable of berthing vessels from 10m-100m, with deep water berths available for short or long-term contracts.