Chinese yard introduces new range of aluminium powercats for locals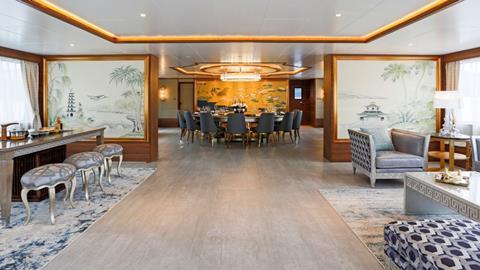 Kingship Marine has introduced a new range of aluminium power catamarans designed for the China market with the first boat delivered for use on the Xinfengjiang Reservoir in the south of the country.
Kingship founder Roger Liang has been building big boats in his Zhongshan shipyard in southern China for the last 12 years and has now moved to supplying the local market. "We have produced a variety of boats, including superyachts, for the international market, both in steel and aluminium, in accordance with Lloyd's and MCA regulations," said Liang, discussing the background to his latest venture.
Liang says that pleasure boating is still very much in its infancy in China. "The rules and regulations differ from province to province, and there is no central boating policy that codifies private boat ownership. The opportunities to take your yacht out to sea and explore the coastline of China are very limited – some might say 'non-existent'. So why not go boating on the lakes, where marine regulations are a little less stringent? Boat owners in China are very specific about how they want to enjoy the water. They are not particularly interested in being great sailors, and most clients are more interested in enjoying their leisure boating in style and comfort. Catamarans are the perfect choice for clients who want a stable platform that provides a little quiet cruising and some gentle exploration."
Liang adds: "Although China now has more cars than the USA, there are estimated to be no more than 3,000 leisure boats in the country. Clearly, this makes for great opportunities to develop boating. It's about getting the right formula for an emerging market – the money is there, and so is an inclination to embrace the boating lifestyle, but they just don't know where to start. Space is one of the critical aspects, and the main saloon of our 24m catamaran is full width. The forward deck has a small outdoor seating area leading into the main saloon, which fully embraces Chinese culture with a passion. There's a purpose-built mah-jong table, a traditional tea service area, and a stylish lounging area – all significant and important parts of the fabric of Chinese society. The saloon opens through into a grand dining room that seats 14 guests around a very large circular table, complete with a motorised central serving platform."
Liang referred to the business implications of owning a yachts in China and how food and entertaining are central to Chinese business and culture.
"The ambiance created during meetings on board is critical to establishing the right relationship for deals to be sealed. Tea, fine food and mah-jong are key elements in the 'feng shui' of this yacht. Large reproduction works by an English painter from the early 18th century adorn the walls of the main saloon. One level up is a karaoke room, a must-have feature for entertaining in China."
Sales of larger leisure boats have been severely affected by the anti-corruption crack-down in China for the past five years. However, business ventures in marine tourism that embrace the whole population are more accepted and operating boats on the vast inland river, canal and lake network of China is much easier than at sea.