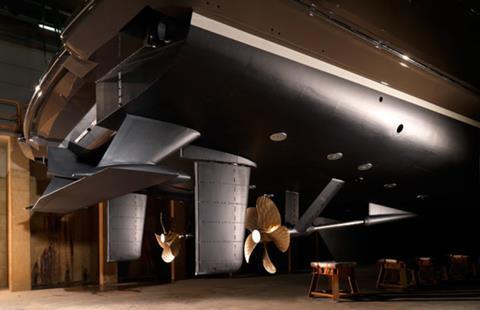 French defense giant Naval Group has model-tested the Hull Vane and says the below-the-transom wing "significantly improves" powering, seakeeping and stealth capabilities of naval vessels and cuts their fuel consumption.
The finding is a major endorsement for Hull Vane BV, the Dutch maker of the wing that targets naval, commercial and yacht markets. Since 2014, 21 Hull Vanes have been built and 20 more are on order.
Naval Group (2018 sales: €3.6bn) published its test results in October at the 2019 annual meeting of the French marine engineering trade association ATMA. It put a naval vessel through computer and tank tests at the Maritime Research Institute Netherlands.
Naval Group said the Hull Vane "profoundly changes" the hydrodynamic flow behind the stern generating less wake and less need for power which makes for a quieter vessel.
"Seakeeping can be greatly improved by using a Hull Vane," Naval Group reported. It cited a reduction of up to 50% in bow slamming pressures, as much as 17% less rolling and reduced pitch, calling that "significant progress, not possible with any known appendage."
"It is very valuable for us that a naval shipbuilder like Naval Group shares its research results with the industry," says Hull Vane sales director Bruno Bouckaert.
The Naval Group also expressed interest in the Dynamic Hull Vane, a hydraulically controlled wing developed with US stabilisation specialist Naiad Dynamics and launched in 2019.
"It may be of interest to consider an active version of a Hull Vane to push further the seakeeping improvement," said Naval Group. Computer simulations point to a 10-20% reduction in pitch with a passive Hull Vane and double that with an active one.
Also, in 2019, Hull Vane BV marketed a semi-custom wing for 10m-20m (33ft-66ft) motoryachts. The Hull Vane is a patented energy saving device. It generates forward thrust and improves seakeeping of ships and yachts operating at sub-planing speed. The Hull Vane is optimized for each ship individually.