Awards recognise Greek manufacturer's long-term commitment to producing the highest quality marine safety equipment
Lalizas has been honored by receiving two Gold awards – one for the Export Excellence for B2B Companies and one for the Best Branded B2B product – at the Made in Greece Awards that honours manufacturing companies from various industries. Organised by the Greek Marketing Academy, the Awards are for both the academic and the corporate world, and were established in order to recognise the efforts of manufacturers based in Greece.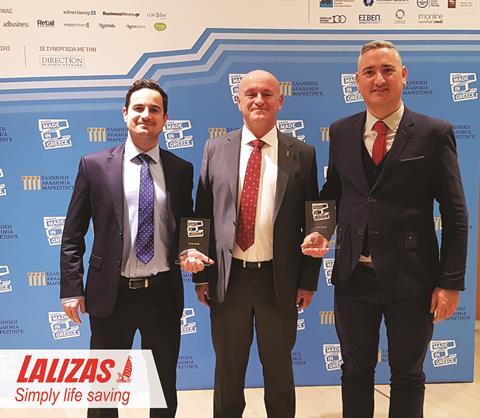 The Awards ceremony, which brought together industry leaders and a host of VIPs, took place in Athens, at the Athens Concert Hall, on December 16.
Stavros Lalizas, CEO of the Lalizas Group of companies, was presented the awards by Kostas Fragogiannis, deputy Minister of Foreign Affairs for Economic Diplomacy and Openness.
The awards in both categories recognise Lalizas's long-term efforts in producing the best quality safety equipment with the goal of securing people's safety at sea.
Stavros Lalizas, celebrated both awards respectively with the related departments.
Lalizas has been producing superior nautical lifesaving products since 1982, and lays claim to the best price to quality ratio in the market. Based in Piraeus, Greece, at one of Europe's busiest ports, it continues to support the local economy while expanding its commercial presence worldwide.
"The product itself is the biggest ambassador of a manufacturing company. It is our greatest marketing tool, which has lead us to this successful exporting activity, constantly evolving while always working as a team", commented Mr Lalizas.
Lalizas was the only manufacturing company from the Greek nautical industry that received an award from the Evaluation's Committee.
In a statement announcing their awards, Lalizas added a note of condolence following the death of the Awards' founder: "The Lalizas family would like to express its sincere condolences to the family of Mr. George Avlonitis, founder of the Awards, Chairman of the Greek Marketing Academy and Professor of Marketing at the Athens University of Economics and Business, upon their unexpected loss."