Dutch builder says it has 30 to 35 yachts in production at any given time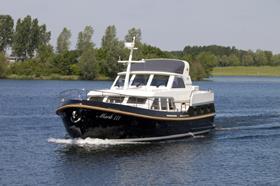 Linssen Yachts of the Netherlands says it took orders for 11 yachts worth €5.2m at its annual mid-November in-house boat show, which coincided with the Dutch motoryacht maker's 70th anniversary.
Linssen annually builds between 70 and 75 displacement motoryachts from 9m-15m at its yard in southern Holland, close to the Belgian and German markets. It has 30 to 35 yachts in production at any given time.
In 2019, says marketing manager Paul Beelen, Linssen will press into service a third custom-designed production line for its larger yachts. "If we can maintain production at around 70 boats a year, we'll be very satisfied," Beelen told IBI. "The total market in new steel yachts has shrunk in recent years, but we still build 70 yachts a year. So, our market share has increased. We estimate we have, in our boat lengths, a 40 to 45% market share."
Linssen also sees growth in the European charter market. At its in-house boat show, the yard premiered its Grand Sturdy 450 Variotop. The event attracted 1,500 visitors – up 30% from 2017 – from 14 countries. A gala VIP evening was attended by 600 guests, including 96-year-old Jac Linssen Sr, who founded Linssen Yachts in 1949.
Linssen markets to individuals and charter companies. At its boat show, the yard met with officials from 15 charter companies on three continents to discuss strategy, the future market and the Linssen brand. Through Linssen Boating Holidays!, the yard charters yachts in the Netherlands, Belgium, Germany, Croatia, the UK, Ireland, Norway, France, Switzerland, Finland and Italy.
Linssen Yachts markets traditional yachts. Beelen says Linssen shuns fashionable trends and colours. "We have a strong brand because we are loyal to our models. We are very constant. We tweak our designs based on client conversations but you'll always recognise the Linssen DNA."