Ssuperyacht's superstructure (main deck and sun deck) successfully joined to the hull last week.
Build of Majesty Yachts' new 120 - the first-ever Majesty Yacht model that utilises all electrically powered components, using no hydraulic systems onboard aside from the engines and generators – conitues apace with the superyacht's superstructure (main deck and sun deck) successfully joined to the hull last week.
"To give an idea of the speed and efficiency delivered in each of our builds, this hull was released from the mould in the first quarter of this year and scheduled for completion by March 2020," said Greg Terraglio, Managing Partner, Majesty Yachts USA. "Much of this has to do with vigorous quality checks of all components before and throughout the modular build process, coupled with an extremely talented in-house team of craftsmen."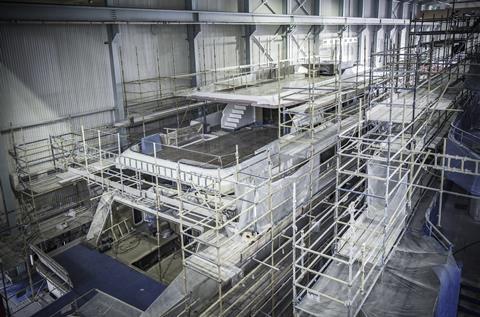 Introduced at the Monaco Yacht Show 2019, the Majesty 120's angular exterior lines and contemporary styling are drawn by the shipyard's in-house design team and inspired by the Majesty 140. One of the yacht's star features is the vast sun deck space, which the builder claims is 30% larger than other yachts in its class.
By utilising all electrically powered components, Majesty says it has created a noise-free environment as well as a more efficient construction process leading to lower maintenance for every owner.
The interior design of the Majesty 120 comes from the creative board of Cristiano Gatto Design Team, who also collaborated with Majesty Yachts in the design of the Majesty 175 and the interior of the Majesty 140, the latter winning Best Interior Design Award at Cannes 2019 and NBC Sports' "Best Of Show" at the 2019 Fort Lauderdale International Boat Show.
The Majesty 120 accommodates up to 11 guests in five spacious staterooms arranged in an inventive asymmetric layout, a first of its kind. Seven crew are accommodated onboard. Additional onboard features include a Jacuzzi on the sun deck as well as an innovative hybrid beach club that converts to tender storage, ensuring maximum fun on the water.