Shipyard expansion and new marina offering for visitors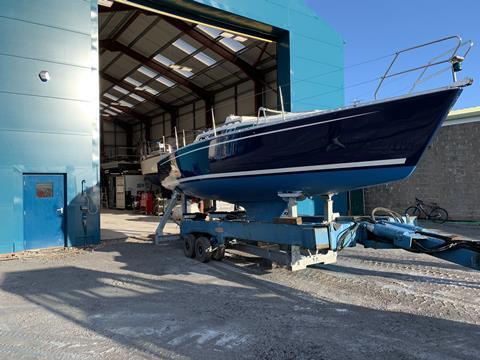 The Marine & Property Group (MPG), which operates four marinas in Wales, has had an active start to 2019 with the opening of a new shed at its Cardiff shipyard, the launch of a discounted yachting visitor offering, and plans to purchase a building in its Aberystwyth marina to house various businesses.
The new launched visitor offering brings together MPG's five Welsh marinas and three marinas in Eire. The latter are located at New Ross, Wexford and Kilmore Quay.
The visitor network is available to MPG annual berth holders who can receive up to 30 days' free visitor berthing throughout 2019 at any other group marinas and a 50% discount on visitor berthing for up to seven days at the Irish marinas.
At Cardiff Marine Services, the MPG boatyard located at Cardiff Marine Village has recently opened a new purpose-built workshop of 30m x 16m (100ft x 50ft). The investment in this new shed was shared with the Coast Communities Fund. The new shed provides enough floor space to now work on three 50ft boats undercover at once.
The site has also been extended by an additional acre, so now totals three acres, with a dedicated acre for hard standing boat storage. The new workshop will provide the main workspace for the expanding boatyard team with the engineering department moving into the former workshop to allow them more space.
There is a woodwork shop, including a modern dust extraction system, a large paint and resin store, and a metal working area for various onsite welding and fabrication jobs. A new compressor with a large plumbed-in airline ring system also allows the team to carry out shot blasting on site using their IBIX blaster which does not damage gelcoat. There is a mezzanine to house a large area for teak decking and simulated teak decking, and a large comprehensive rigging set up on site.
In addition, a 75ft x 30ft spray booth has been created, providing a controlled environment for applying all types of paint and to expand upon the work the businesses currently carries out as both an Awlgrip and International Paints application centre. The company has also invested in a series of new cradles for boats up to 20 tonnes and employed a new rigging manager.
Dave Freemantle, boatyard manager, commented: "These new facilities are a huge leap forward for Cardiff Marine Services, allowing us to produce higher quality results in a quicker turnaround time for our customers. As the average size of boats is increasing, we have responded to the market by considerably enlarging the space we have available and expanding the services we offer. It is great to have everything under one roof and to be able to work on more boats undercover at one time."
In a further move, Freemantle Yacht Rigging has joined Cardiff Marine Services Ltd. Andy Freemantle is an experienced and well-respected rigger and will join Cardiff Marine Services as rigging manager. He and his team will continue to offer a wide range of rigging services including the supply of new masts, replacing running and standing rigging, renewing all furling systems and deck hardware. The rigging department is a centre for a number of leading brands, including Selden, Harken, Marlow Ropes, Z Spars and Sparcraft.
At MPG's Aberystwyth Marina, terms have been agreed with the Welsh government to acquire Harbour House. The building is set in a prime waterside location, overlooking the marina and it provides 15,000sq ft of mixed-use space. MPG plans to develop the building by bringing in businesses that complement the waterside setting. Also, the marina office will move into the Harbour House.