Manufacturing plant in Coomera doubles in size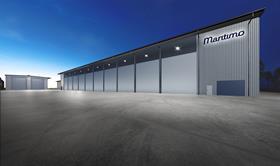 Australian luxury yacht brand Maritimo continues to move its activities up a gear through expansion of its facilities, dealer network and model range.
After more than a year under construction, Maritimo's multimillion-dollar expansion of its manufacturing plant at the Coomera Marine Precinct is due to be completed in early 2019. Maritimo says the investment will 'future proof' the business and create "Australia's most advanced and environmentally-sensitive marine industry manufacturing facility".
The expansion plan dates from late 2017 and follows the purchase of a 3.09 ha commercial site adjoining Maritimo's factory in Waterways Drive at the Coomera Marine Precinct. The site in McPhail Road, backing on to the Maritimo factory, has nearly doubled in size as a result of the purchase.
Commenting on the expansion, Maritimo founder Bill Barry-Cotter says: "When completed, the combined manufacturing plant would cover 4.664 ha and would be one of the most advanced in the industry. The McPhail Road purchase increased Maritimo's land holding by 197% and its total building areas by 52%.
"We conducted a root and branch review of our entire manufacturing operation and this new facility has enabled us to streamline and refine how we design and manufacture boats and at the same time dramatically improve the working environment for our people," he adds.
The expansion will create an additional 70 jobs to its current permanent workforce of 200. This rises to 500 when sub-contractors are added. Maritimo's apprentice intake is also being increased, and staff training and development will be enhanced.
CEO Garth Corbitt says: "The completion of the new manufacturing facility would come as Maritimo's global expansion was stepped up and followed on from its most successful year ever in 2018 with record sales across the globe. Ongoing the company will continue to market approximately half of the vessels we produce internationally and our new, improved base will enable us to do that efficiently and cost-effectively – ultimately resulting in a better product for our customers and a better environment for our people."
Corbitt continued: "Our total manufacturing plant under roof is now 16,550sq m excluding office space. Prior to the McPhail Road acquisition and building works, Maritimo's production facility covered 10,840sq m including 1,028sq m for the race team headquarters. The acquisition will see a further 5,710sq m added."
The expansion allows Maritimo to grow and increase the size of its vessels as and when it sees fit without having to make any significant factory changes. Benefits are already flowing, with the new product and design team being shifted from the company's Hope Harbour facility into the refurbished existing building on the acquired site
As part of the expansion, the company's new product and design team is located within the R&D department in a combined area that has nearly trebled in size. This is resulting in better interaction with manufacturing and a more productive flow of ideas and information between design and production.
Maritimo has also been growing its global dealer network, with a particular focus on the US. The company's model range also continues to be expanded with the most recent new series being the X-Series Sports yacht which has seen strong sales.
Maritimo's other series include the M-Series Flybridge and the S-Series Sedan Cruisers.