New flybridge motoryachts and X50 model proves popular at SCIBS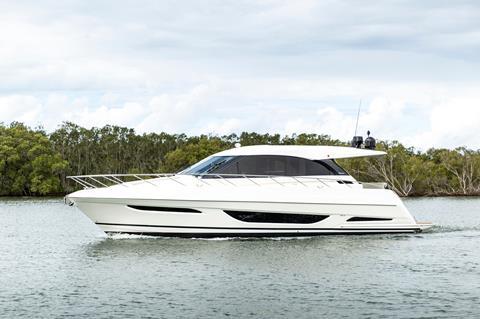 Australian cruising yacht manufacturer Maritimo has reported strong sales at the recent Sanctuary Cove International Boat Show (SCIBS) – a reflection of its growing status in the international market. The enhancement of its status includes the doubling of its manufacturing plant on Australia's Gold Coast, a consistent new model launch programme, and expansion of its international dealer network – especially in the US where it has seen strong sales success.
At SCIBS, Maritimo reported multiple sales across a broad product line range. CEO Garth Corbitt says: "The total number of sales will not be known for several weeks, as current deals are negotiated and finalised and buyers conduct sea trials. Needless to say, we are very happy with the response with sales of both our flybridge motoryachts and the newly released X50 being strong. "With many millions of dollars worth of deals finalised and more pending, our forward order pipeline is extremely healthy."
The global premiere of the X50 model was the company's showstopper at SCIBS. The X50 follows in the wake of the X60, launched at SCIBS 2018, as the second model in Maritimo's 'X' range. Six X50 models were sold off plan and in total the X range has achieved more than 20 sales to date.
The X50, with its aft cabin accommodation options, will follow SCIBS at exhibitions throughout Australia, New Zealand and North America in the remainder of 2019. This latest addition to the X series line will look to add to what has been one of the most successful product launches in Maritimo's history, following the considerable success of the X60.
X-Series lead designer, Tom Barry-Cotter, said: "The X-series was revolutionary in the sector and made a strong statement that Maritimo is a united team committed to further establishing itself as industry leaders in design and performance. From its race infused bloodline, the X50's powerful exterior form blankets an innovative web of simplistic and functional arrangements integrated with advanced design features that set it apart from competitors."
The new X50 features a customisable aft accommodation space that increases the size of living spaces in the forward accommodation and neutrally balances the hull for enhanced performance, fuel economy and ride comfort. Accessible from both saloon and swim platform deck, the aft accommodation space features a standard beach club cabin with ensuite.
In addition to the X50, Maritimo introduced on-water model display at SCIBS were the latest 2019 variants of the M59 and M51 flybridge motoryachts.
"Elegantly integrating into the hull topsides of each vessel are all new panoramic hull side window profiles amid some other purposeful styling elements which enhance both interior and exterior forms," said Maritimo's lead designer, Tom Barry-Cotter. "Benefiting from the integrated panoramic hull side windows are the master cabins within each vessel, which have been completely transformed by the injection of light and surrounding vistas."
Maritimo is continuing to bolster its US dealer network, a market which accounts for 50% of the company's sales, with Europe, Asia, Australia and New Zealand claiming the other 50%. No other new models are to be launched this year, but it was made known that an X70 is in development.
In terms of the company's manufacturing plant expansion this is now nearly completed with internal relocations of facilities to enhance the manufacturing process. The new facility gives Maritimo the capability to build yachts up to 30m (99ft).
It was also stated that Corbitt would give a full corporate update for Maritimo at the upcoming Sydney show in August.