Two new models made their US debut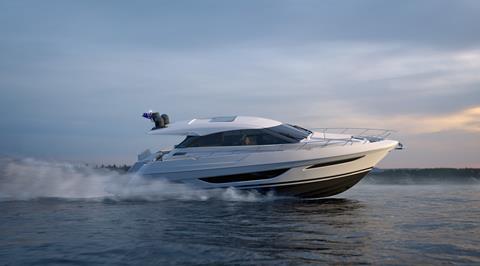 Australian yacht-builder Maritimo has reported that it experienced strong sales at the recent Miami International Yacht Show. The company, which is actively working to grow its presence in the North American market, used the show to debut two enclosed flybridge models – a beach club version of the X60 and the M64.
In total, Maritimo exhibited four of its largest models at the Miami show, including two of the revolutionary X60 coupes, a model that forever changed the sports yacht sector after its launch early in 2018, and interest in the brand was reported to be 'extremely high'.
Maritimo Americas' President, Dave Northrop, said: "The X60 sport yacht with the aft beach club and versatile accommodations was a clear winner at the show, but with one or more orders for each model displayed the success was across the range. The X60 beach club version and the M64 were extremely popular and showcased the finest of our heritage in both the enclosed flybridge sector and the sports coupe market.
"We had the beauty and the beast of the M64 complimented by the innovation and style of the X60," he adds. "Such has been the phenomenal interest in and coverage of this model that yachtsmen are now coming to shows like Miami with the X60 at the top of their must-see list."
Northrop suggested that the X50, due for its world premiere at the Sanctuary Cove International Boat Show in May this year, also drew strong interest with multiple orders placed ahead of its debut.
Northrop anticipated that the Maritimo would see a repeat of the X60 sales success prior to its world premiere last year in May, with the X50 this year. He also commented: "The new venue for the Miami Yacht Show will be a hit with attendees in future years after some teething problems this year in terms of location awareness impacted on attendance figures."
Garth Corbitt, Maritimo's CEO, said: "The sales success enjoyed at Miami recently vindicated the massive financial investment the company had made in the expansion of its manufacturing plant on the Gold Coast in Queensland, Australia last year. Our international strategic expansion is on track and the market in the USA was a major focus of that strategy."
He forecast: "The expanded plant will enable us to meet the increased demand from the export market and the new models that we roll out. Miami was strong for us and we now look forward to the next major show we will be represented at, which is in Palm Beach in four weeks."
The Palm Beach show opens on March 28.