US builder says a fifth LY 650 has been sold and is currently in build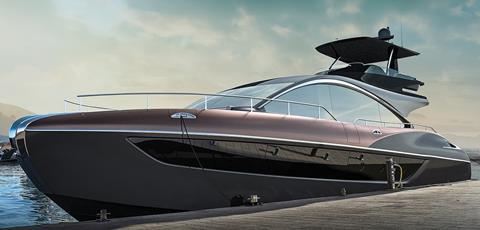 The 60th Ft Lauderdale International Boat Show (FLIBS) saw Marquis Yachts introduce its long-awaited redesigned M42 "upscale Day Boat" and the LY 650, its partnership luxury yacht designed by Lexus.
Marquis president and CEO Rob Parmentier said the Pulaski, Wisconsin builder will offer three distinct categories of yachting: Carver – modernised five years ago – for "traditional cruising"; Marquis for "exceptional, good-looking" day cruisers, and Lexus for luxury yachts.
Parmentier teased that a redesigned Carver will be introduced at FLIBS next year, and that a fifth LY 650 has been sold and is in the build process, with two other designs in the works.
With Marquis employees at every level trained in the Toyota production process, Parmentier said the company has been able to apply those principles to each boat it now produces, improving the overall quality.
Calling out the exceptional innovations Lexus designers along with Nuvolari-Lenard interior designer brought to the LY650, Parmentier calls out the size and number of windows, leather door inserts, generous use of eucalyptus wood and carbon fibre, and the rounded soft-curves throughout the interior.
"There isn't one 90-degree angle on the boat. And they made us do that. But that's hard. And that's hard to build. And it's hard to pop out of the moulds. And so, our people have been challenged. But [results in] a cool looking boat," Parmentier told the crowd at the unveiling.
Pricing for the LY650 starts with a base price of US$3.74m, up to US$4.85m for a fully optioned model.
"Is it an expensive boat?" Parmentier asked rhetorically. "Yes, it is. But it's got the content to be an expensive boat. And Lexus wanted that content."
The LY 650 also features metallic car paint, which will also be introduced on the 2022 model line of Lexus automobiles.
As for the new Marquis, Parmentier says "Day Boat" is better suited to describe the way customers use their boats and not to the style of boat, but the growing market segment provided some sales opportunities. The M42 is a Day Boat you can spend the night on with a full head and stand-up shower, a large cockpit and generous seating for entertaining and appeals to the boater who wants to set trends, not follow them.
The company calls it the V3 Philosophy, which marketing VP Matthew Vetzner explained comes straight from Julius Caesar. "Veni, vidi, vici. I came, I saw, I conquered. It's representative of the attitude of the customer. It's just a subtle way to keep reinforcing who this buyer is. They are followed. They are not the follower. They're the ones in the know. So, V3 is a subtle way of saying you know, basically 'I'm a badass. I know, I got it. You want to be like me, so come with me and follow.'"
A triple outboard version of the boat is expected to be available in the spring of 2020.