Engine manufacturer expands capacity to meet current and future demand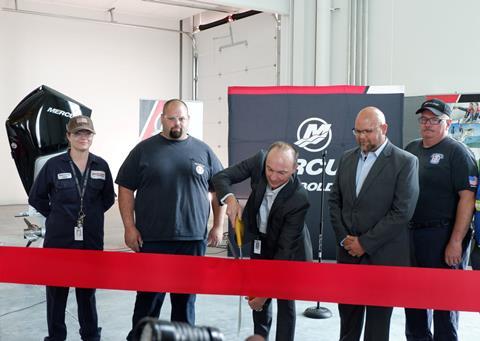 In a move to expand capacity to meet current and future product demand, Mercury Marine has completed a US$9m, 23,500sq ft expansion to its diecasting operation at its Fond du Lac, Wisconsin headquarters.
The expansion will include a second 4,500-tonne diecast machine used to form V-6 and V-8 engine blocks, as well as the addition of automation to take over some of the more dangerous manual operations like molten metal pouring, heavy lifting, sawing and repetitive motion procedures. The technology is 'job neutral,' according to the company, meaning no employees were replaced by machines. In fact, Mercury is in a hiring mode.
The ribbon-cutting event comes on the heals of a groundbreaking last month for a US$17m expansion to the Mercury Propellers facility and brings the company's total investment in its headquarters campus to US$1.14bn since 2008.
"We are working as hard as ever to make sure we have the capacity to meet demand," Mercury Marine president Chris Drees told IBI following the event. "That is not a small effort, though. So when we add capacity, it's not adding a person or two, it's building buildings, bringing in new equipment and though it takes a little bit of time, we understand the situation we're in and to try and be a good [OEM] partner is our goal, and the key is to make sure you deliver on time."
Mercury was caught short by the popularity of its V-6 and V-8 product when it was introduced and has been struggling throughout this year to meet demand, which Drees said has been an ongoing effort, adding the company is shipping 27% more engines this year that at the same time in 2018.