Group's seventh yard to specialise in maintaining and refitting yachts from 30m-55m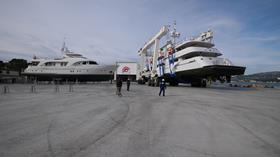 The latest and seventh shipyard in Monaco Marine's South of France network is now fully operational, having opened last month. Located in La Seyne-Toulon, the new yard is a state-of-the-art facility for maintenance and refit and will specialise in superyachts from 30m-55m (98ft-181ft).
The yard can accommodate up to 28 yachts at one time – capacity that is likely to be well used in a location which is one of the most popular superyacht destinations in the western Mediterranean. The site is one of the largest dedicated to the maintenance of 50m superyachts in Europe, with 40,000sq m available as a working area.
Based in a secure and protected bay, the yard has a 148m (485ft) dock, allowing 12 to 14 superyachts to be accommodated simultaneously. Among the equipment is a new 560-tonne travel lift and 35-tonne crane. A team of 40 workers, including craftsmen, project managers and crew concierge services, will assist clients during their stay.
An additional service is also provided: a specific marina dedicated to superyacht tenders with three floating pontoons, allowing them to leave and return to the shipyard with access to the sea.
The first superyachts hauled-out were the 30m Moonen yacht Livadia and the 47m Swift yacht La Polonia. Maintenance, such as fairing and bridge work, was carried on both. The 53.95 (177ft) Trinity-built Keri Lee III has also arrived for a four-month stay, which will include a class registration survey.
Operating for 23 years, Monaco Marine is among the largest yacht repair and refit businesses in the South of France. It can work on yachts up to 180m (590ft) at its network of seven shipyards, from Beaulieu-sur-Mer to Marseille, plus its private marina in Monaco and its mobile shipyard teams. It has a workforce of 200 and makes use of some 600 sub-contractors.
Each shipyard is specifically dedicated to a size and tonnage of yacht: below 24m (78.5ft), below 500 tonnes, between 500 and 2,000 tonnes, and beyond 2,000 tonnes. More than 3,000 yachts are repaired or wintered there each year.
In 2017, Monaco Marine generated €66m in turnover and had a repeat business rate of 85%.