Hong Kong-based dealer to look after Indonesia, Malaysia, Thailand, Singapore and the Philippines
Hong Kong-based Asia Yachting has added to the strength of its partnership with the Beneteau Group in the Asian market by enlarging its dealership of Monte Carlo Yachts. Alongside the current territories of Hong Kong and Macau, Asia Yachting will expand its offerings of new boat ownership, brokerage and boat management to other countries in South East Asia, Indonesia, Malaysia, Thailand, Singapore and the Philippines.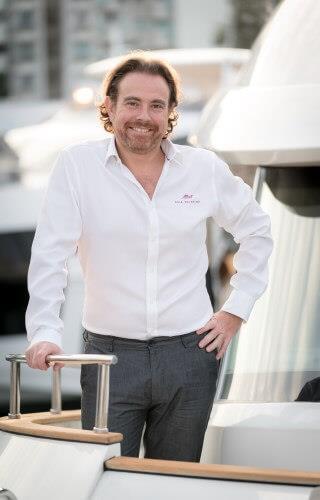 Fabrizio Larrera, Monte Carlo Yachts' managing director, stated: "We are thrilled at the prospect of expanding our strong collaboration with Asia Yachting to new markets. The high expertise of the team has proven to be in line with Monte Carlo Yachts' philosophy and quality standards in regards to both customer experience and satisfaction".
Olivier Besson, CEO of Asia Yachting said; "I am very excited to extend the scope of the strategic partnership with Monte Carlo Yachts in terms of territories. The past decade of collaboration has proven to be remarkable and resulted in positive customer relationships achieved through first class management and after sales strength of Asia Yachting. Amongst the tremendous measurable successes of the collaboration between Asia Yachting and Monte Carlo Yachts including several sales of the first models of the MCY 65 / 70 / 80 / 86 / 105. I am convinced that we have the right mix and synergy between our various territories to best promote the Monte Carlo Yachts brand to our discerning clients".
As Asia Yachting enters its 13th year in the industry Besson added; "The Asia Yachts team has expanded and matured to be diversified and well-experienced with a one-stop scope of services from new and second-hand boats, to management, maintenance, crew support, berthing, insurance and financing solutions".
Monte Carlo Yachts was also complimentary about the efforts of Simpson Marine in Asia with Larrera stating; "Monte Carlo Yachts have been honoured to be represented by Simpson Marine in South East Asia from 2014-2019. At the beginning of our Asia expansion five years ago, this strong partnership has enabled us to grow quickly in this challenging and still developing market. Today, thanks to the remarkable efforts of the Simpson team, we are well recognised in Asia and Simpson Marine have sold many MCY yachts in the region including the new MCY 96 and the latest second generation MCY 70. MCY have achieved these important results through the partnership with Simpson Marine whom we heart fully thank for their support and wish them continuous success In their fourth decade of operation. They will continue to represent MCY throughout China and Taiwan and we look forward to working with them in these strategic markets. Both companies have agreed to the changes in South East Asia as Simpson Marine expand their operations in other directions".