Third model series to be constructed at Monfalcone shipyard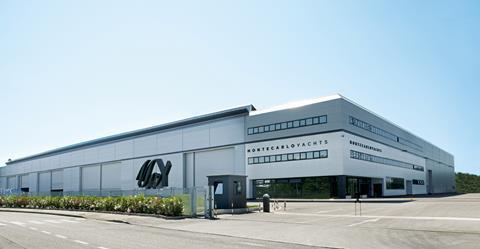 Following the introduction last year of three second-generation models, Monte Carlo Yachts (MCY) has launched a new second-generation series with enclosed flybridges. This new series was announced at Boot Düsseldorf 2020, as was the fact that a third Beneteau brand series of yachts are to be built at MCY's Monfalcone shipyard in Italy.
The three second-generation yachts were the MCY66, MCY70 and MCY76. These three are now being marketed with the 'Skylounge' enclosed flybridge series, effectively doubling the options for these smaller yachts in the MCY full range. The full MCY range also includes four other sizes – namely, the MCY80, MCY86, MCY96 and MCY105.
Fabrizio Iarrea, managing director of Monte Carlo Yachts, commented that the new Skylounge models had been thought about for a number of years but it was only over the last two years that the company worked on introducing.
"It is a particularly popular option for the US market," Iarrea told IBI. "So far we have two orders for the Skylounge models include an MCY70 and MCY76. One of the buyers is a US client who bought an MCY76 in 2014 and he has worked with us in helping to introduce the Skylounge series."
Iarrea also spoke with IBI about the new Beneteau Project E models which will be constructed at MCY's Monfalcone shipyard in Italy. The E-Project is a new brand of two expedition models launched at Boot Düsseldorf and initially being introduced with the two sizes of 18.9m (62ft) and 22.2m (73ft). Last year the Monfalcone shipyard also started building CNB models and the facility is designated as the luxury location for Groupe Beneteau.
With the recent changes in MCY's dealers in Asia, Iarrea indicated to IBI that while Simpson Marine had done a good job for MCY it was considered that a change was necessary, hence the move to Asia Yachting which is taking over the MCY dealership in a number of South-East Asian markets.