Yanmar to develop Nauti-Craft's suspension boat technology with an eye to mass production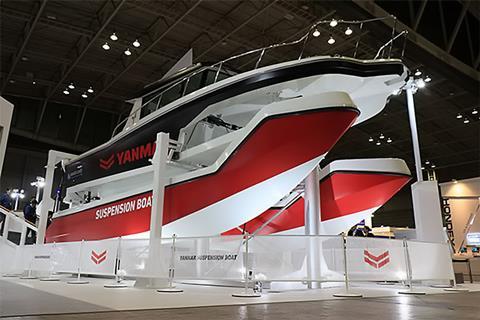 Dunsborough, Australia-based Nauti-Craft Pty Ltd and Osaka, Japan-based Yanmar Marine have entered into a technology transfer agreement that aims to develop Nauti-Craft's patented marine suspension technology and incorporate it into a new line of leisure boats to be sold through Yanmar's global network.
The non-exclusive agreement will see the companies collaborate to commercialise the unique technology, which utilizes multiple sponsons with independent suspensions to cushion wave impacts and provide a smoother ride. "We are very excited to be developing a boat that incorporates the latest technology in the marine domain," said Yanmar Shipbuilding and Engineering Company president, Masanobu Horii. "The enhanced stability of the boat gives it smoother handling, which results in enhanced boat safety and reduced passenger fatigue."
Collaboration between the two companies began in 2016 with the construction of a 10m suspension boat which Yanmar subsequently displayed at the 2018 Japan International Boat Show. A strong reception to the boat among show visitors appeared to validate the commercial viability of the project.
Click here to watch a video that demonstrates the new technology.