Prototype said to deliver unique benefits including zero exhaust fumes and "unmatched torque"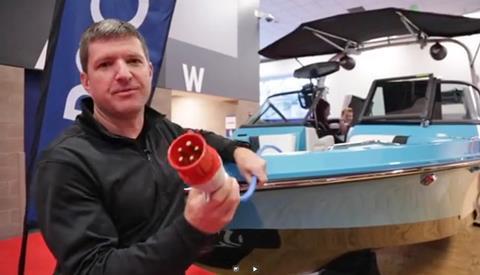 US towboat manufacturer Nautique is making a splash at the Seattle Boat Show this week as it debuts a prototype electric version of its popular Nautique 210 towboat.
The prototype vessel is said to provide unique benefits for wakeboarders and wake surfers, including a complete lack of exhaust fumes, a less disruptive wake pattern and silent operation, allowing for greater communication between riders and boat occupants. The binary power curve of its electric motor is also said to provide the vessel with "unmatched torque", allowing it to quickly pull riders up out of the water.
Power is provided by an Ingenity drive system. Nautique parent Correct Craft acquired the Ingenity technology from Austria-based Ortner Electric in 2018. The Ingenity P220 has been offered in the company's Super Air Nautique 210 and GS20 models sold in Austria ever since.
"This boat is a prototype of the technology we've been working on for several years to make electric boats possible at a high performance perspective for creating wakeboard and wake surfing wakes, as well as for skiing" says Nautique president, Greg Meloon. "We're excited about the future."
The electric Nautique 210 is second prototype electric towboat that the company has shown in public, following the introduction of the Ski Nautique E at the Miami Boat Show in 2011.
The Seattle Boat Show runs through February 1 at the Centurylink Field Event Center and South Lake Union.