Cape Town's Mountain Marine unveils two new custom boats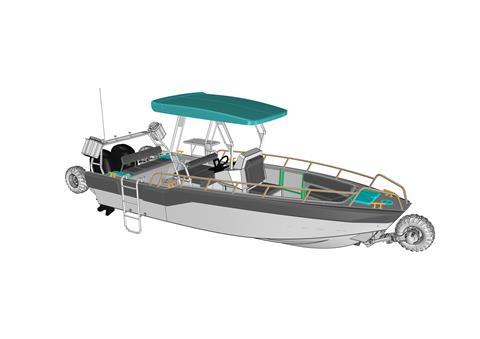 Mountain Marine, a new Cape Town aluminium boat builder, has launched itself into the local market with two major custom projects.
The company is weeks away from completing an 8m aluminium amphibious boat that is a joint venture with South African RIB specialists Gemini Marine. The vessel will be fitted with a hydraulically deployed and powered amphibious drivetrain from New Zealand-based Sealegs International, as well as twin Yamaha 130hp outboards. Mountain Marine also recently produced an 8m aluminium jet boat for Zimbabwean tour operator Shearwater which is now running high-octane trips through the rapids on the Zambezi River.
Company director Alf Tinker said the amphibious RIB was a design first for the South African market, with a launch date expected in November. "Mountain marine is doing the hot work and bulk of the outfitting," Tinker said. "Gemini will be doing the Propulsion, Collar and the hydraulics Sealegs system."
"The boat will be used for recreational purposes in particular for accessing remote stretches of coastline and stretches of river guarded by shallow sandbanks."
"The hull boasts in excess of 100% reserve buoyancy through the incorporation of SPX35 Buoyancy Foam fitted below the main deck as well as in the collar," Tinker said.
The initial jet boat was a custom project for well-known destination management company Shearwater, which operates in Zimbabwe, Zambia and Botswana. The company offers jet boat tourist rides on the Zambezi River and required a boat capable of running powerful rapids below the Victoria Falls. The vessel, delivered earlier this year, had to be launched off the famous Victoria Falls Bridge, a crane drop of nearly 128m. "That was probably the most impressive part," said Tinker of the nerve-jangling drop. "There were two boats in there (the Zambezi gorge) previously, glass-fibre boats. But then Vic falls came down in flood and these boats got taken out, never to be seen again."
Tinker previously worked for a variety of shipyards both domestically and abroad. He is hoping to establish Mountain Marine as a globally recognised custom aluminium boat builder with competitive hotworks rates of between US$27-30,000 per tonne. He founded Mountain Marine last year after moving to Cape Town from Port Elizabeth.