Advance Yacht Systems to represent Italian HVAC specialist in the UK and Ireland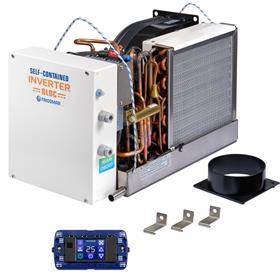 Italian HVAC specialist Frigomar has chosen Advance Yacht Systems to distribute its air-conditioning units, fridges and ice-makers in the UK and Ireland.
According to export manager Bernardo Cerrai, the appointment will strengthen Frigomar's communication and supply chain links with British boatbuilders and end users.
"Our new advanced inverter technology will be of particular benefit to prestige brands looking to maximise the energy efficiency of their yachts and provide greater comfort for their customers," Cerrai says.
Advance Yacht is the UK distributor for Paguro and Westerbeke marine generators, Dessalator watermakers, Cristec battery chargers and Studer inverter/charger systems. MD Rod Boreham says the company is particularly excited to add the new Frigomar air-con systems to its range.
"With their ECO function, these units are amazing," he says. "Yachts can now have powerful, silent air-conditioning without the need for large generators. These air-conditioning units can even run happily off an inverter, as ECO mode only uses 200W."
Frigomar has over 45 years' experience manufacturing marine air-conditioning systems, refrigeration systems and ice-makers for boats. The family-owned company is based in Leivi, near Genoa.
"This appointment complements our global expansion, which has seen us open new service centres in the Caribbean and US in the last year," Cerrai adds.