Roodberg supplies mobile lift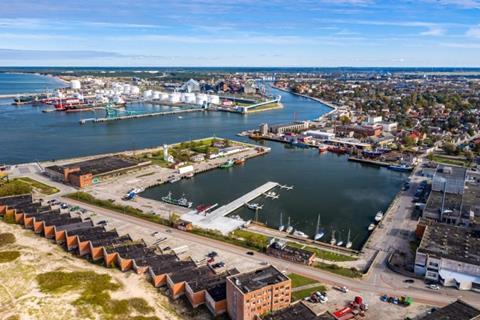 A major investment programme to upgrade the facilities at Ventspils Yacht Port in Latvia has recently been completed. The programme included the reconstruction of a 110m (361ft) pier and three new floating berths. The changes mean the port now has berthing capacity for up to 50 boats.
The investment was made possible through the shareholders of New Yacht Marina Ltd, which is the owner and operator of Ventspils Yacht Port, and the Baltic Marine Holding Co Ltd with support from the ESTLAT 55 programme called 'Improved Infrastructure of Yacht Ports and the Development of Port Networks of Latvia and Estonia' and its constituent project, 'Reconstruction of Ventspils Yacht Port and Landscaping'.
Other work undertaken at Ventspils Yacht Port included work on a winter storage for yachts extending to 840sq m. Also, a 35-tonne capacity,0 self-propelled crane was acquired from Dutch manufacturer Roodberg; it being the first such piece of equipment in Latvia.
Igor Secheley, the majority owner of Baltic Marine, commented: "In 2020, the Baltic Marine Holding Co Ltd plans to continue investing in the development of Ventspils Yacht Port through its subsidiary New Yacht Marina Ltd.
"Continuation of the ESTLAT 55 programme realisation is also planned in order to complete reconstruction of the port's client service premises and development of the territory. It is planned that the range of services of the yacht port will broaden with middle-class apartments which will be available for rent to the guests of the port and of the city."
In 2019, Ventspils Yacht Port handled 502 yachts – a rise of 8% on the number of visiting yachts in 2018. Looking back to 2015, when the port first started operations, this was a jump of 36%. The average stay of a yacht.. is two days and over 1,400 visitors, mostly from Germany, Finland and Sweden, passed through the port in 2019.
Ventspils Yacht Port recently exhibited at Boot Dusseldorf as part of the East Baltic Coast group of stands to promote the opportunities the facility offers. It plans similar initiatives at the forthcoming Helsinki and Stockholm boat shows.