The €25m facility in Pesaro can handle yachts of up to 55m
A new refit yard, Cantiere Rossini, located at Pesaro on Italy's Adriatic coast, is nearing completion after three years' work and a total investment of €25m.
The new yard is designed to handle superyachts of up to 55m (180ft) and offers a comprehensive range of facilities which include a 560-tonne travel lift manufactured by Cimolai Technology; 15,000sq m of hard standing; and a private marina with 12 berths for yachts of up to 55m. There will also be a range of crew facilities.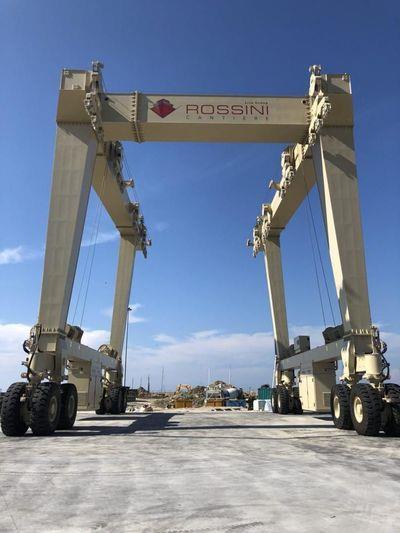 The Cantiere Rossini management, led by former commercial marine and superyacht captain and now CEO, Stewart Parvin, paid considerable attention to layout of the yard and the services it provides. The outcome of this input, based in part of Parvin's experience as a captain, is reflected in the success that the yard had in its first season and the fact that work is already lined up for its second season.
The history of Cantiere Rossini, named after the famous Italian opera singer, Gioachino Rossini, born in Pesaro in 1792, is that it was previously a commercial shipbuilding yard named Cantiere Navale di Pesaro which went into bankruptcy in 2008-9. In 2015 the site was acquired by a group of investors and the new facility developed after a major clean up of the old shipyard.
Gianluca Devicienti, operations director of Cantiere Rossini, explained to IBI at the Versilia Rendez-Vous: "The new yard is now ready for its second season after a first season that saw a number of superyachts including ISA and Sanlorenzo models up to around 48m (158ft) being worked on. One of those superyachts is returning for more work. The yard is now very near completion with the last 450sq m of hard stand just completed and a 70m x 30m x 22m paint shed to be finished. Versilia Rendez-Vous is the first show we have attended."
He explained that the yard wants to be a state-of-the-art refit facility offering quality facilities and services to meet the requirements of small repairs up to full refits. "We are also providing facilities for the officers and crew with a gym and spa as well as 12 apartments for them to stay in whiie we are working on the yacht.
"Additionally, we have a 99 seat conference room and three or four classrooms, as we want to be able to provide training courses so they can gain whatever certificates they need while in Pesaro. Including the original bid for the shipyard, which was around €2.5m, the total investment in the yard is some €25m."