Extreme Boats is a new name in the European trailer boat industry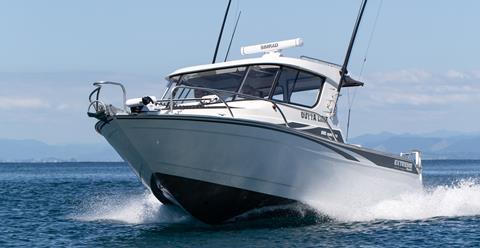 Extreme Boats, a new name in the European trailer boat industry, is in the process of appointing new dealers across Europe to sell its export range manufactured in New Zealand.
Extreme builds over 450 aluminium boats a year ranging in size from 5m-11.85m and has received numerous awards in its home country, including four major awards this year at the highly competitive Hutchwilco Boat Show. These include winning the best new model, specialist fishing boat up to 7m, specialist fishing boat up to 8m, and also winning the overall boat of the show. With over 20 different models from the 5m Sport Fisher right up to the 1185 Game King, the Extreme range meets a wide variety of applications.
Aluminium boats are particularly popular in New Zealand, Australia and Scandinavia, as they are lightweight in comparison to GRP craft of similar length, making them very suitable for trailing and ease of launching, qualities which Extreme are hoping will also be appreciated more widely in the rest of Europe in future.
Extreme Boats EU Limited will be the European distribution hub based in Coventry in the UK with offices and a showroom in Southampton. It is currently in the process of establishing a dealer network in over 15 European countries, including the appointment of up to six main dealers in the UK to service their prospective clients. A number of regional territories are still open to interested parties.
For the European public launch, the 745 Game King will be unveiled at the Southampton International Boat Show in September on Stand C004 where details of the dealer network will also be available.
To see the complete range of Extreme Boats, visit the company website at www.extremeboats.co.nz.