Seven new boat sale contracts were signed at the show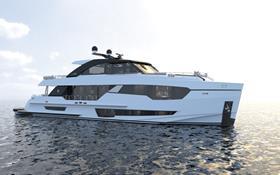 This year's Ft Lauderdale International Boat Show (FLIBS) was a record success for Ocean Alexander, with seven new boat sale contracts signed on yachts.
According to Alexander Marine Australia, exclusive dealer for the OA brand in Australia and New Zealand, the results exceeded pre-crisis levels and included the sale of the new Evan K Marshall-designed 90R which was making its world debut.
As the first yacht in the Revolution series, the OA 90R was the centrepiece among five classic Ocean Alexander yachts ranging from 70ft-112ft in length. "Eager buyers were amazed by the luxury features such as the beach club, floor-to-ceiling windows and on-deck master suite," said Alexander Marine Australia's MD, Todd Holzapfel.
With her plumb bow, the 90R has markedly increased interior volume, including the sky lounge which is equal in size to the main saloon of a much larger superyacht.
The Ocean Alexander 90R struck a chord with Australian visitors to FLIBS, and Todd reports they are "fielding interest from prospective local buyers with potential delivery in 2020".
"They said they were impressed by the expanded living spaces and floor to ceiling windows. The 90R is classic Ocean Alexander, transformed for a new era."
Also in the spotlight at FLIBS was the Ocean Alexander 45 Divergence concept, which is scheduled for its on-water premiere at the Miami International Boat Show in February 2019 and slated to arrive in Australia mid-year 2019.
"The 45 Divergence is a customisable, 45ft luxury sport boat which combines performance and style," said Todd. "Unique in its class, the 45 Divergence will impress with its bold design, array of features and unprecedented level of comfort for a boat of its size.
"Multiple variations of the cosmetic appearance of this unrivalled sport model mean owners have the opportunity to transform this vessel to suit their specific requirements – whether that's island hopping, entertaining, diving or fishing."
Back in Australia, Alexander Marine recently delivered a new OA85 open flybridge motoryacht to Melbourne owners who plan to base their vessel at Hamilton Island.
Alexander Marine Australia is the exclusive dealer for Ocean Alexander and Galeon yachts in Australia and New Zealand. The company is based at the Boat Works Marina and Shipyard on Queensland's Gold Coast.
Ocean Alexander is one of the top selling brands for large yachts in the US, with manufacturing in Taiwan and the US.