The 109m Bravo Eugenia is a slim, energy-frugal yacht with hybrid power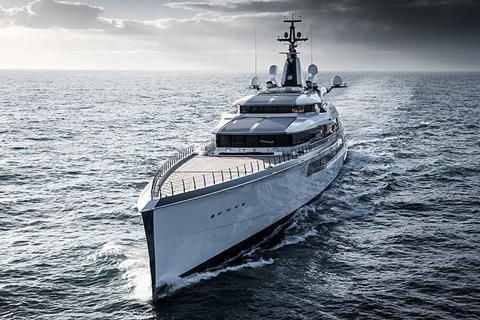 A year after it was announced, the strategic partnership between Dutch superyacht builder Oceanco and British engineering giant BMT has yielded its first project.
The just delivered 109m Bravo Eugenia is a slim, energy-frugal yacht with hybrid power from a compact engine that fits on only one deck.
Ocean says its first LIFE-design yacht (Lengthened waterline, Innovative layout, Fuel-efficient and Ecologically conscious) renders fuel savings of up to 30%. It developed the yacht with Lateral Naval Architects, its joint venture with Southampton-based BMT.
Oceanco commercial director Dirk de Jong calls it a "fundamental new design of a very sustainable yacht." The LIFE design is characterised by a single-tier engine room, hydrodynamic efficiency, heat and energy-recovery systems and integrated batteries.
De Jong said the LIFE design works on a large yacht like the 3400GT Bravo Eugenia but can also work on shorter yachts.
In 2018, Oceanco stepped up its collaboration with Lateral with the goal of injecting more innovation into Oceanco yachts.
This week, Oceanco announced the purchase, from a defunct offshore engineering company, of two vast build halls in the Port of Rotterdam, a 10-minute drive from its existing site. Said De Jong: "Our fleet is getting older. It made sense to us to do this expansion now."
Oceanco will use the halls for maintenance, refits and new construction, as well as office space for outside companies working on Oceanco projects.