The UK's first marine enterprise zone is based at the Devonport Dockyard in Plymouth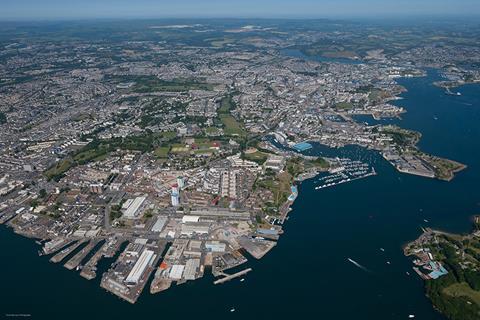 The second phase of the UK's Oceansgate development in Plymouth – a multimillion transformation of the South Yard part of the Devonport Naval Dockyard – has been given the go-ahead after securing funding and planning permission.
Under Oceansgate, the area has been made into an Enterprise Zone for marine businesses, with opportunities for research, innovation and production. Phase 1 of the development was completed last year. A total of £10.25m of funding has been secured for Phase 2, with a £2.25m grant from the European Regional Development Fund (ERDF) and an £8m Council loan.
Planning permission has also been granted for Phase 3, which includes the demolition of an existing building and the erection of four new buildings. This will provide 15 light industrial units and a new three-storey office building, as well as car parking and landscaping. It will create a total of 1,350sq m of light industrial space and 1,500sq m of office space, enabling the creation of up to 130 new jobs.
As part of Phase 2, the historic gateway arch to South Yard, which was once the original entrance to Devonport dockyard, will be rebuilt to create a sense of arrival to the site.
Councillor Tudor Evans, leader of Plymouth City Council, said: "I'm really excited that we're able to move forward with the next phase of Oceansgate. The planned work will create a modern workspace perfect for marine businesses, but keep a nod to the past with the recreation of the original gateway.
"Phase 1 has already become a thriving business hub, which is what we set out to achieve. This next step will provide even more opportunities for businesses and more jobs, helping to drive economic growth and support our flourishing marine industry in Britain's Ocean City."
Phase 1 of Oceansgate has already welcomed a number of businesses including Lang & Potter, Surejust, Trend Marine, the Maritime & Coastguard Agency, and the new Marine Business Technology Centre.