Construction of the new 65m vessel is on track for delivery in spring 2021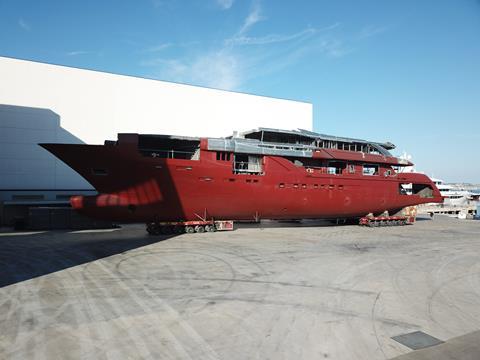 The new 65m ISA Classic by Palumbo Superyachts Ancona rolled out of the welding shed and into the yard's outfitting shed this week.
Set for delivery in spring 2021, the yacht features exterior and interior design by Enrico Gobbi of 'Team For Design' who has penned several other new ISA models.
With a gross tonnage in excess of 1,300 GT, its main arrangement encompasses six staterooms plus a seventh convertible cabin, including a full-beam owner's suite located forward on the main deck and a huge full-beam beach club with three opening transom doors right below the pool placed on the main deck.
ISA Yachts is part of Palumbo Superyachts, which also includes Columbus, Mondomarine, Extra and Palumbo SY, which is dedicated to refit. Earlier this month, ISA announced the sale of its latest model, the ISA Super Sportivo 100 GTO, to a European client.