New 3,300 tonne synchrolift in Ancona and 420-tonne travelift at Malta facilities
Palumbo Superyachts is increasing its lift capacity at its Ancona and Malta superyacht facilities as part of a multimillion-euro investment.
Since Palumbo's acquisition of the former ISA facilities in Ancona, Italy, it has been steadily upgrading the shipyard making it the major superyacht build facility in the group. The latest addition is a 3,300-tonne capacity travelift allowing superyachts up to 110m (360ft) to be handled. Installation of the new lift and its full operation is scheduled for the end of January 2019.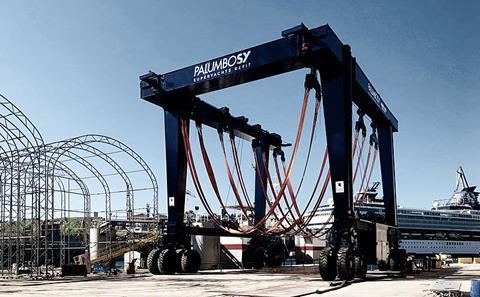 The Ship Lift 3300, as the investment project is known, consists of a steel platform 81m (266ft) in length and 19m (62ft) wide. The system is supported by 14 large winches that allow the lifting or launching of megayachts, with a draft up to 6m (20ft) from sea level. With its potential, this new infrastructure is a significant addition for both yachts under construction and in advanced construction.
This new synchrolift will be among the largest facilities on the Adriatic coast for the refitting of very large superyachts.
Also at its Malta superyacht facility, Palumbo Malta Superyachts is installing a new 420-tonne travelift. This will be operational in time for the winter refit season and it will be used for small and medium-sized yachts rather than the larger ones that may use the facility's two large dry docks.
Palumbo has steadily expanded its superyacht activities over recent years and apart from the Ancona and Malta facilities, it has recently acquired the former Mondomarine shipyard in Savona. It also undertakes superyacht work at its facilities in Marseille, Naples and Tenerife.
The group has also recently taken over the Victor Lenac shipyard in Croatia.