UK builder to officially launch new model at Düsseldorf 2020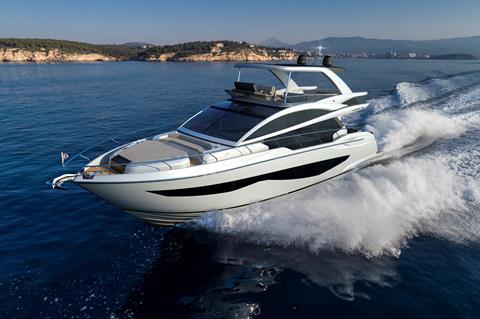 The UK's Pearl Yachts announced a new model, the Pearl 62, at the Cannes Yachting Festival this week. The company also highlighted a strong sales position over the past year.
The new Pearl 62, a total revamp of the previous Pearl 60, was designed by the usual Pearl team of Bill Dixon, responsible for the exterior, and Kelly Hoppen for the interior. The 18.6m (62ft) yacht has four double cabins, including a full-beam master suite with its own dedicated entrance.
Iain Smallbridge, Pearl's managing director, says: "Construction of the first hull is underway and three have already been ordered. Completion of the first Pearl 62 is due in January 2020 and it will be shown at the Düsseldorf show. In the first year we are planning to build four and then increase to six a year after that."
In addition to the four double cabins, the Pearl 62 can include either a jet-ski garage or a crew cabin. All three ordered have gone for the garage version, suggesting this will be more of an owner-operator craft. Part of the total redesign includes the use of Volvo IPS engines with three option between the IPS 950 and IPS 1,200 which will provide full speeds of between 27kt and 33kt. The base purchase price is £1.25m.
In terms of recent sales success, Pearl has sold two flagship Pearl 95s, three Pearl 80s and a number of Pearl 65s. All three models are built at a shipyard at Xiamen and then transported to the UK for final fit-out.
Pearl's objective with the new 62 model was to produce a craft that maximises the owner experience with on-board features being a large flybridge. Dixon commented: "On the exterior, the emphasis is on offering the owner a great lifestyle from the forward seating and sunbathing area, to the aft deck and hi-low platform, with connection to the sea and dedicated storage for jet skis and paddleboards."
Hoppen explained: "The design of the Pearl 62 is sleek and linear; clean lines and contrasting materials embellish the spaces and afford the interior a general feeling of refinement. The design ethos is all about the balance of finishes, textures and palettes to create a timeless design that is both beautiful and functional."